Media Player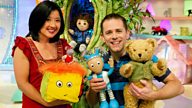 Show Me Show Me
-
Series 2: 8. Bubbles and Hiccups
Chris and Pui have fun in their magical playroom, bringing objects and ideas to life. They blow bubbles and go on a bubble hunt, but everyone has hiccups.
Chris and Pui investigate and explore within their magical playroom in the sky, and with the help of their favourite toys, bring objects and ideas to life.
Chris and Pui are blowing bubbles and going on a bubble hunt. But everyone's got an attack of the hiccups. Chris and Pui blow bubbles and observe them. They sing a gentle bubble song. Miss Mouse asks Chris to make a bubble that's bigger than she is, then after a moment of beauty it's time for Tom's song. Where is Tom hiding?
Chris and Pui and the toys have a bubble hunt to find Tom and a number of bubbly things. Teddington has a bubbly fizzy drink. When Chris and Pui try Teddington's drink they both get hiccups! The children have plenty of things to say about hiccups in their Show Me. Later, Humpty visits the shop and he's looking for something to stop his hiccups - can the shopkeeper help?
Finally, Chris and Pui and all the toys act out a rhyme about animals with hiccups before the lift arrives and it's time to go.
First shown: 15 Sep 2010
Available for 9 days
Duration

25 mins
Ways to watch and tools