Media Player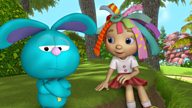 Everything's Rosie
-
Series 1: 11. How Rosie Mislaid Her Raggles
Rosie lives in a playhouse with her colourful group of friends. Raggles runs off to hide, but Rosie gets distracted and forgets to look for him.
When Raggles is inspired by a large bowl of delicious strawberries to play his very own game of 'hide and eat', Rosie is happy to go along with him. Raggles is quick to dash off to hide in the maze whilst Rosie starts counting. However, Rosie is distracted when Will asks her to help him break his speed record in the go speeder, and soon afterwards Big Bear needs her help to find his missing toffee apple.
It is only when Rosie is helping Holly finish her picture that she realises she has forgotten all about Raggles. How will she find him and will he forgive her?
First shown: 9:35am 17 May 2010
Available for 26 days
Duration

11 mins
Ways to watch and tools