Media Player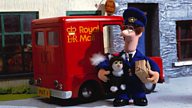 Postman Pat
-
Series 8: 2. Postman Pat and the Double Disguise
The adventures of Greendale's postman. Tom and Katy want to be grown-ups so they can help, but they discover that being small has its advantages.
Greendale is holding a charity sale and Julia is sorting through everyone's donated items. Tom and Katy try to help out, but only end up making a big mess, so Julia shoos them off to play.
As Tom and Katy wander around the village, they come upon a variety of people who need help - Ted, Ajay, Pat - but all of them say the jobs are for grown-ups. Then, a part for Ajay's train goes missing and the only ones who can help are the twins - and they find that sometimes, being small isn't bad after all.
First shown: 27 Nov 2006 3 days left Duration 15 mins