Media Player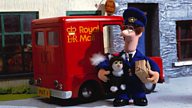 Postman Pat
-
Series 4: 1. Postman Pat and the Troublesome Train
Animated adventures of Greendale's postman. Pat is excited when he spends the day driving the train with Ajay, but it's very difficult.
It's Pat's day off and Ajay has invited him to be a train driver for the day. Pat is thrilled but soon discovers that being a train driver is harder work than he supposed.
The train is making good speed when Pat notices that the boiler is dangerously low on water. Everyone rushes down to the River Pen with buckets, thermos flasks or anything else they can find to refill the water tank. With disaster averted the Greendale Rocket sets off once more.
Ajay soon gets up speed again but Pat notices that the carriage has become disconnected from the train. They hurriedly reverse and reconnect the train.
Meanwhile, Alf's sheep have wandered onto the line and the train has to stop for a third time. Pat suggests that the best way to get the sheep back to Greendale is by train and the passengers find themselves riding with some woolly companions.
First shown: 11.25am 18 Jun 2007 Available for 6 days

Duration 15 mins