Media Player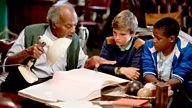 Rocket's Island
-
Series 2: 1. Rocket Boulsworth and an Answer For Everything
Rocket and his family live on a mysterious island. Rocket discovers an ancient phone box that has the answer to everything.
On the mysterious island of Dirgelmor, off the coast of Wales, lives the Boulsworth family. Mum Sarah, dad Peter and children Alli and Rocket. The Knot farm takes on foster kids but these aren't just any kids, these are the ones that everyone else has given up on.
There's a new foster kid coming to stay, but Brandon Kelleher isn't like any foster child the Knot has seen before. He runs away before he's even arrived and it's clear that he has a secret. When the phone in the old box in the village starts to ring and a mysterious voice tells Rocket exactly where the new foster kid has run away to, he learns about the ancient portal to the gods, once said to have existed on that very spot. The Oracle of Ballabungie has the answer to everything! But with the answer to any question in the world at everyone's fingertips, things soon spiral out of control...
First shown: 5.25pm 14 Apr 2014 Available for 6 days

Duration 30 mins
Ways to watch and tools