Media Player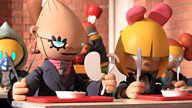 Strange Hill High
-
Series 1: 14. The End of Terminator
Animated series. When the old-school teaching machines are replaced by slick new ones, strange things begin to happen.
Animated series following three friends as they investigate all manner of bizarre and odd occurrences at their inner-city school.
Cutting-edge technology hasn't been Strange Hill's strength since 1862 and all the machines around the school are hopelessly out of date, breaking down, going up in smoke or simply falling apart. Including maths instructor Nimrod. Once the world's most advanced computer (in the 1950s), he has been relegated to teaching school maths to unappreciative kids at an inner-city school. Irritatingly logical and with a mighty 12k memory, Nimrod thinks he can outsmart the students. But he has never faced Mitchell before. Having received a G in maths (one below F and not even a grade according to an outraged Mitchell), Mitchell is sure Nimrod is malfunctioning and sets out to give him a total breakdown. Literally. He succeeds and the students are delighted to see Nimrod and the other old machines replaced by slick new ones, including the enticing Miss CATE, a friendly, caring computerized robotic maths instructor.
In fact, headmaster Abercrombie and school secretary Miss Grimshaw have used this as an opportunity to update not only the school's electrical system, but the school's security systems as well. With CCTV-like cameras now in place around the school and CATE teaching maths, strange things begin to happen. Strange, good things according to Abercrombie and Grimshaw - delinquents like Tyson suddenly become perfectly behaved and the school finally seems to be running in an efficient lockstep. It's all too perfect to Mitchell, Becky and Templeton, and the secret they uncover - with the help of disgraced Nimrod - is shocking.
First shown: 5pm 31 Jul 2013
Available until Fri 1:25pm
Duration

23 mins
Ways to watch and tools