Media Player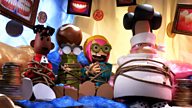 Strange Hill High
-
Series 1: 5. Big Mouth Strikes Again
Animated series set in an inner-city school. Becky's healthy snacks provoke an evil fairy tale figure set on making children's teeth rot.
Animated series following three friends as they investigate all manner of bizarre and odd occurrences at their inner-city school.
After years of disgusting food, the school chef has finally won students over with his seemingly endless buffet of sweet, sweet treats. Everyone loves it except for Becky, who's been on a recent health kick. In fact, she's set up a stall to sell healthy snacks like vegetables. Of course, it's not very popular and the chef has no worries about competition until a freak accident with the school graffiti artist, Gazza, turns Becky's vegetables glowing fluorescent colours. Suddenly popular, Becky's snack stand poses a threat to the school chef - a bigger, darker, more evil threat than one can imagine, because behind the chef (or perhaps inside the chef as our trio learn) is none other than the Tooth Fairy! This is not the graceful, friendly Tooth Fairy of legend, but the real-life, greedy, awful Tooth Fairy, the one who must obsessively collect children's rotting teeth for his own nefarious purposes. So our trio go into a heated battle - both literally and businesswise - with one of history's most beloved fairy tale figures.
First shown: 5pm 5 Jun 2013
Available for 11 days
Duration

23 mins
Ways to watch and tools