Media Player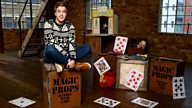 Help! My Supply Teacher Is Magic
-
Help! My Supply Teacher is Still Magic: Episode 5
Magicians posing as supply teachers visit primary schools. A teacher helps his class make a table fly with sound waves from kazoos, and other magical feats are performed.
It's a brand new term and CBBC have sent four of the UK's hottest magicians back to school to trick and amaze the pupils. This time they're in disguise as they pretend to be supply teachers to teach some surprising magical lessons to the unsuspecting pupils.
The show will also teach children how to do tricks to fool their friends, and presenter Iain Stirling will choose his favourite Wannabe Wizard from footage sent in by the viewers.
Also, the audience at home can join in with the Interactive Illusion and members of the public will get to see our magicians on the street Up Close and Magical.
John teaches a magical musical lesson where the class make a table fly into the air using only sound waves from kazoos. Meanwhile, James takes a history lesson on crime and punishment, which involves him escaping chains and scrambling brains. Play along with the Interactive Illusion at home with a pack of cards.
First shown: 6:15pm 12 Feb 2013
Available until Sun 2:35pm
Duration

30 mins
Ways to watch and tools