Media Player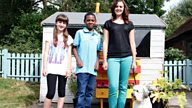 Pet School
-
Series 1: Episode 2
Series which sees children and animals brought together for two weeks. Cleaning out the chicken coop of six newly-hatched chicks tests Sophie, Liam and Rachel's teamwork skills.
Sophie, Liam and Rachel welcome six newly-hatched chicks to Pet School, but cleaning out the chicken coop tests their teamwork. While one group mucks out the stables, another learns about dog breath - up close and personal.
Things get hairy when Nikita, the curly-haired tarantula, is brought in for an Extreme Pet visit. And Ashleigh and her famous pooch Pudsey give Giulia some celeb-tested tips for bonding with her dog.
Can Pet School give our nine Pet Heads the skills to become responsible pet owners? And when term's out, will they persuade their parents to get them a pet of their own?
First shown: 4.30pm 4 Dec 2012
Available for 19 days
Duration

30 mins
Ways to watch and tools