Media Player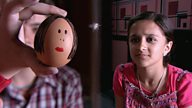 Tracy Beaker Returns
-
Series 3: 6. Eggs
Drama set in a children's home. Tracy sets an egg-sitting challenge: the YP team up in pairs to look after an egg, but eventually every egg gets smashed.
The YP want a new computer but Mike will not get one until they prove they can look after their things. So Tracy sets an egg-sitting challenge: the YP team up in pairs to look after an egg without smashing it.
Meanwhile, Sapphire tells Harry, who is visiting her at her flat with Carmen and Tracy, that she is not his mum and he has to get used to her not being at the dumping ground. Carmen offers to be his mum instead, and back at the DG they team up for the egg challenge.
Tee and Frank treat their egg like a baby, Johnny and Elektra cannot be bothered and Gus hates Tyler's jokey attitude, wanting to look after the egg himself. Carmen treats Harry like a toy, and when Rick arrives back from a failed foster placement, she is distracted by him, neglecting Harry who smashes the egg and runs off to find his way back to Sapphire's.
He gets lost and attaches himself to a young mother. The police are called, and Sapphire goes out looking for him. Mistaking Sapphire for family, the young mother berates her for abandoning Harry. Sapphire takes Harry back to the DG, announcing she is moving back in to look after him. But she is out of the system now, and it is not allowed.
Tracy, Gina, Mike and Sapphire help Harry understand they are all his mother figures at the Dumping Ground. Carmen, filled with guilt, realises she treated Harry just like her own mother treated her.
Meanwhile, each egg gets smashed. Johnny and Elektra sell the others new eggs that they have bought, but Tracy has marked the eggs so she knows that they have swapped them. There will be no new computer after all.
First shown: 5pm 3 Feb 2012
Available for 6 days
Duration

30 mins
Ways to watch and tools