Media Player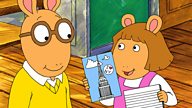 Arthur
-
Series 14: 2. Buster Baxter and the Letter From the Sea
Animation following the adventures of a young aardvark and his friends. While on vacation, Buster discovers a message in a bottle.
Animation. Join Arthur, possibly the world's most famous eight year old Aardvark, his sisters DW and Kate, and some of their many friends Buster, Francine, The Brain, Muffy, Sue Ellen, Fern, Prunella, and Binky as they encounter the joys and difficulties that all children experience in their adventures through life. Based on the popular children's books by Marc Brown.
While on vacation with the Read family, Buster discovers a message in a bottle on the shore. Could it be an urgent message from the people of the lost city of Atlantis? Buster is determined to find out and sends them a message back, by throwing his own bottles in the ocean! Will he learn that keeping the beach and waters clean is the real message?
First shown: 3.35pm 2 Nov 2010
Available until Wed 8:35am
Duration

13 mins