Media Player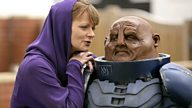 The Sarah Jane Adventures
-
Enemy of the Bane: Part 1
Children's drama series. When former enemy Mrs Wormwood appears asking for help, Sarah Jane must turn to an old friend from her time with the Doctor.
Gita vanishes and Sarah Jane encounters an unwelcome face from the past, Mrs Wormwood, as the children's drama series produced by Russell T Davies continues.
Now hunted by the Bane, Mrs Wormwood needs Sarah Jane's help to foil their plan to take over the galaxy with an ancient alien power. And Sarah Jane also needs help, from Sir Alistair Lethbridge-Stewart.
First shown: 5.15pm 1 Dec 2008
Available for 27 days
Duration

28 mins
Ways to watch and tools