Media Player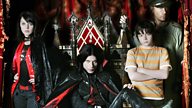 Young Dracula
-
Series 1: 8. Blood Relations
Drama series following Count Dracula's children. It's Vlad's 13th birthday, but his plans to have a normal party fall apart when his grandparents arrive.
Children's drama following the misadventures of Vlad and Ingrid, who have moved to Britain with their father, Count Dracula.
It is Vlad's 13th birthday and he cannot wait to have his first ever 'normal' party to celebrate. However, his party plans fly out of the window when his grandparents fly in the door.
First shown: 9 Nov 2006
Available until Fri 1:30pm
Duration

28 mins
Ways to watch and tools