Media Player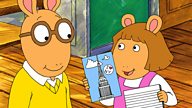 Arthur
-
Series 3: 9. Lost/The Short, Quick Summer
The adventures of a young aardvark. Arthur falls asleep on the bus; Arthur remembers all the fun he has had with his friends over the summer holidays.
Arthur is taking the city bus by himself for the first time. But when he falls asleep and wakes in an unfamiliar part of town, frightened and lost, he doesn't know what to do!
Summer vacation is over already? But Arthur didn't do all the things he'd planned to! As he searches for his list of fun stuff to do, he's reminded of all the other fun things he and his friends did do. Maybe summer was great after all.
First shown: 1 Jun 1999
Expires tomorrow 7pm
Duration

25 mins
Ways to watch and tools