BBC Archives featured in The One Show celebration for BBC Two at 50
We wanted to create an atmosphere of 'hidden treasure' as a backdrop to talking about the tape that was thought to be lost to the Nation, and as a location it was absolutely perfect."

Joanna Grace
Date: 02.05.2014
Last updated: 18.11.2014 at 14.10
Director Joanna Grace from Icon Films describes filming at the BBC Archive Centre in Perivale, London, for a One Show film about the night BBC Two failed to launch.
The schedule of the opening night of BBC Two on April 20th 1964 was filled with comedy, music and celebratory fireworks live from Southend Pier. But due to a massive fire at Battersea Power Station, Television Centre was plunged into darkness. 
The countdown to launch turned into a countdown to disaster and the News team at Alexandra Palace had to step into the breach at the last minute as Television Centre was unable to broadcast. 
What was broadcast that night was not thought to have been recorded because of the power cut, until a mysterious tape was discovered at BBC Kingswood Warren in Surrey in 2003. 
And what a tape! It shows the first few minutes of that night's broadcast; a Reporter called Gerald Priestland, dressed in unusual attire for the News, a V–neck jumper, reporting with great calmness as things went wrong around him. The result was an unintentionally humorous piece of broadcasting that wouldn't look out of place in a Monty Python sketch!  
Without the discovery of this tape by people working for the BBC a key night in British television broadcasting history would have been lost forever.
And thanks to Nick Watson at the BBC Heritage Collection we were able to film the actual spool during an interview at BBC Archives in Perivale. See the clip below: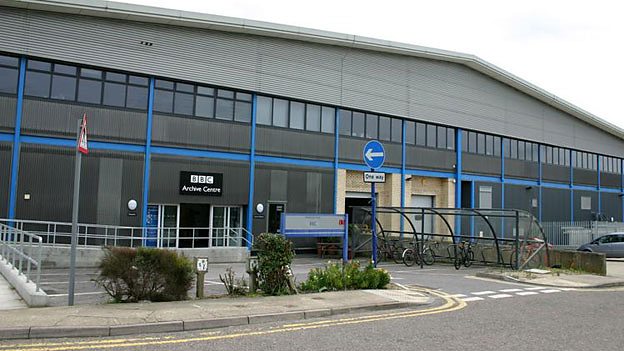 Interview at the BBC Archive Centre with Gyles Brandreth
Despite its modern exterior, once inside the temperature controlled vaults at Perivale you couldn't escape the nostalgia and history that fills the shelves. We chose one of the vaults that holds some of the oldest reels.

We wanted to create an atmosphere of 'hidden treasure' as a backdrop to talking about the tape that was thought to be lost to the Nation, and as a location it was absolutely perfect. 

Just glancing along the shelves the labels on the metal cans tell of countless programmes made by the BBC stretching back to the 1950s, each one a time capsule in its own right. It was a privilege to film at such an unseen BBC location, and one of such historical importance to the country. 
BBC2 Failure to launch was broadcast on 17th April on The One Show, BBC1. 
Search the site
Can't find what you need? Search here