1.
21st Century choice
As of 2015, there are 2.6 million current or ex-smokers in the UK who now use e-cigarettes – almost four times as many as in 2010.
Cigarettes burn tobacco to release smoke containing nicotine and other chemicals. On the other hand, e-cigarettes heat liquid nicotine directly to make an inhalable vapour.
Although this method has become popular, not everyone's clear if vaping should be recommended. Some healthcare experts think it has the potential to eradicate smoking-related diseases, while others worry widespread vaping could create unknown problems in the future. Take a look at the evidence to help you decide.
2.
How tobacco causes harm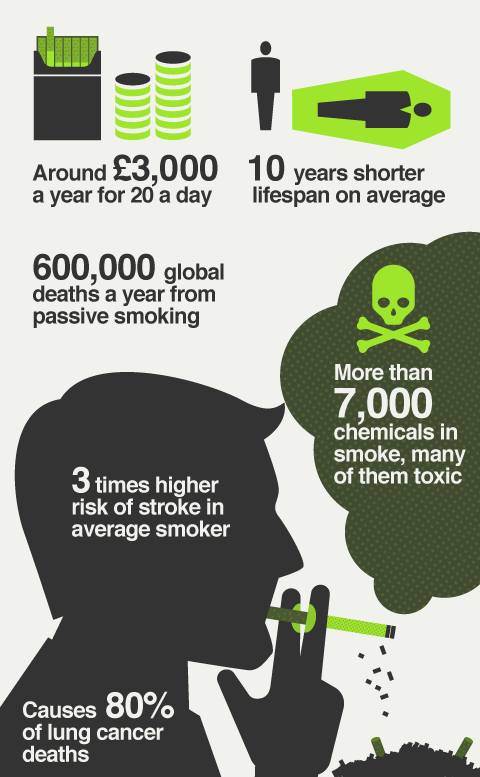 3.
How does vaping compare?
Click on these problems with smoking tobacco to see how e-cigs compare.
4.
Criticisms of e-cigarettes
Despite their advantages, e-cigarettes are not completely risk-free. Find out if experts think these reported concerns are valid.
Long-term safety
CONCERN: E-cigarette vapour might contain traces of cancer-causing chemicals like formaldehyde or toxic metals like nickel. Repeatedly inhaling these over many years could cause health problems.
IS IT VALID? This is a possibility, and there is not yet enough long-term research on e-cigarettes to know for sure. But the evidence currently available suggests very low levels of toxins in e-cigarette users. Many scientists, such as those working with Public Health England, therefore think the risks are likely to be low – and certainly much lower than with tobacco.
Nicotine addiction
CONCERN: The nicotine in e-cigarette vapour is still highly addictive. Some studies suggest nicotine might be linked to anxiety and blood vessel problems.
IS IT VALID? There is a lack of definitive evidence. But according to a Public Health England report, scientists believe the levels of nicotine in e-cigarettes are unlikely to pose any significant health risk.
Gateway to smoking
CONCERN: The availability of relatively safe e-cigarettes could normalise the activity of smoking and make it socially acceptable again. Non-smokers could be enticed to start vaping and eventually move to smoking.
IS IT VALID? This could happen. But studies reveal that so far, very few non-smokers have taken up vaping – around 0.2% in 2014 figures for England, which is similar to the proportion taking up other nicotine replacement products like nicotine patches.
5.
Should vaping be allowed in public spaces?
Some healthcare experts and groups like Action on Smoking and Health (ASH) think vaping should be encouraged as a tobacco substitute. But other institutions like the Welsh government and British Medical Association want it banned from enclosed public spaces. Do you think vaping should be allowed in public spaces like pubs and offices?