1.
Seven billion and counting
The answer seems straightforward. If you want a big family, it's up to you. The Universal Declaration of Human Rights states, "men and women of full age, without any limitation due to race, nationality or religion, have the right to marry and to found a family."
But by the time you finish a working day, there will be 80,000 more people on the planet. Enough to fill the Olympic Stadium in London. For some, this means we have a responsibility - to the planet and to each other - to slow population growth. Others point out that population alarmism is as old as the hills and that historically humanity has risen to the challenge of its growing number. What's more, low birth rates present their own set of challenges.
Could we have reached the stage where our right to have children should be challenged? With compelling evidence on both sides, read on to discover some of the main arguments in the population debate and decide whether you think it's OK to have big families.
2.
Consequences of having kids
Click on the hand icon to discover some of the arguments for and against contributing to population growth.
This content uses functionality that is not supported by your current browser. Consider upgrading your browser.
For some, restricting the number of children we have is essential to avoid environmental and humanitarian problems. But others do not accept they are major causes of these issues, that children may favour social and psychological well being and that a healthy population is key to sustaining economic growth. Our consumerist lifestyles are also key in the debate.
3.
Population and Consumption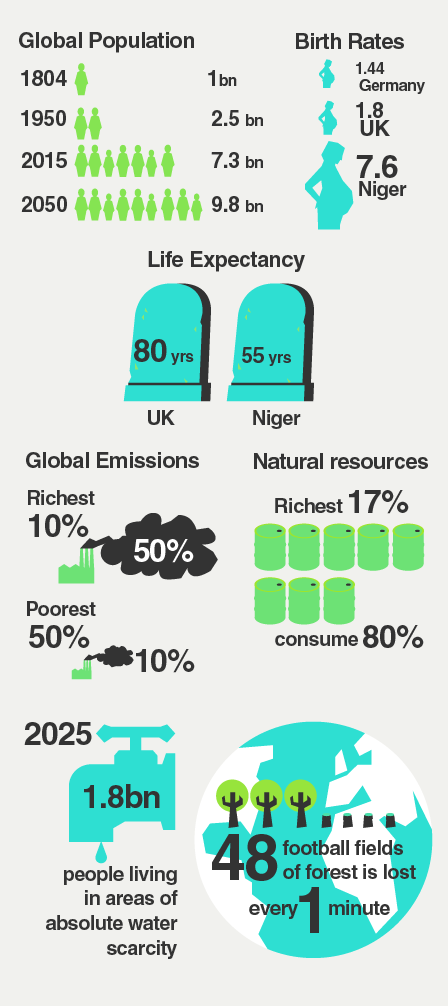 After slow growth for most of its history, the global population grew rapidly in the 20th Century, thanks to mortality reduction. In some parts of the world family sizes are still large, although overall decreasing. But it's not only numbers that are considered in the population question. The rate at which wealthier nations consume the world's resources and contribute to waste and pollution levels is also a vital factor.
4.
WATCH: Two mothers give their opinions
5.
Family size around the world
Watch this one-minute animation to see how the size of your family compares to other families around the world.
Sources: Office for National Statistics, Central Intelligence Agency Publications (USA), Centre for Economics and Business Research, Cheshire Archives and Local Studies.
6.
VOTE: Is it ok to have a big family?