1.
Focus on prevention
There are four million people with diabetes in the UK – that's one in every 16 people.
There are two main types of diabetes: type 1 and type 2. Type 1 is less common and is not preventable. Type 2 is predominantly associated with weight gain and a sedentary lifestyle, but there are other risk factors. In the UK, 90% of diabetics are type 2. If your blood sugars are abnormally high, but are not in the diabetic range, you may be diagnosed as prediabetic. This means you have a high risk of developing diabetes.
The good news is that around 80% of cases of type 2 diabetes are preventable. Find out what you can do to reduce the likelihood of developing the condition.
2.
Are you at risk?
Type 2 diabetes can come on slowly and the signs may not be obvious, so it is important to understand the risk factors.
This content uses functionality that is not supported by your current browser. Consider upgrading your browser.
People with type 2 diabetes who have not yet been diagnosed can display symptoms such as extreme thirst, tiredness and needing to go to the toilet more often, but you could also be symptom free and still have type 2 diabetes or prediabetes.
3.
Eating well to beat diabetes
If you are overweight or have a large waist, type 2 diabetes can be avoided or delayed by reducing your weight and waist size. Along with increased activity, a healthy diet will help you manage your weight. But what exactly is a 'healthy' diet?
This content uses functionality that is not supported by your current browser. Consider upgrading your browser.
Every kilogram lost is associated with a 16% reduction in diabetes risk. No one weight-loss plan has been proven more effective than any other, so a healthy, balanced diet is recommended. If you have already been diagnosed as prediabetic or have type 2 diabetes, it is particularly important to control your weight. Being a healthy weight makes diabetes easier to manage and can delay the onset of some of the most unpleasant complications of the disease.
4.
Portion distortion
In our supersized world it's tricky to know what a sensible serving is. Click for some easy tips.
5.
Burning calories: gym v everyday activity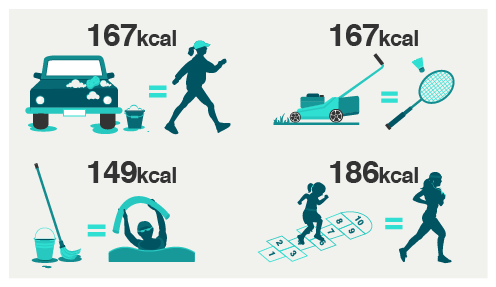 Exercise is essential for good health, but all activities count. Exercise not only helps to maintain a healthy weight, but can lower blood-sugar levels because it helps your body to use insulin more effectively. Aim for high levels of everyday activity, including walking, housework, playing with children and hobbies – anything that gets you moving.
6.
Can a strict diet reverse type 2 diabetes?
New research has shown that blood-sugar levels in people with type 2 diabetes can be returned to normal by following a very low-calorie diet over a period of eight weeks.
The participants in the study undertook an extremely low-calorie diet under close medical supervision. Researchers selected highly-motivated individuals who were most likely to stick to the diet. The study found that significant weight loss reduced the amount of fat present in the liver and pancreas. This in turn caused blood-sugar levels to return to normal and improved insulin function. The results were less encouraging for participants who had had type 2 diabetes for more than four years.
Although the research is very promising, more detail is needed and weight loss has to be maintained to retain the health benefits. This is often difficult to achieve and many people struggle to stick to restrictive diets. For this reason a more holistic change of lifestyle, including exercise and routine, may be preferable and easier to maintain.
Trying this approach without medical assistance could be dangerous, so it is important to seek medical advice before embarking on a strict diet regime.