1.
Opening doors
Once 'coding' was only done by software programmers. But as most parts of the world have become integrated with digital technology, the opportunity to exploit the power of code is available to people in almost any career.
From football and engineering to fashion and art, most industries now have a strong digital component. Find out how learning some code could get you noticed in your chosen industry.
2.
CLICKABLE: Four dream jobs
Click on an industry below to see how someone has cracked into it with code.
This content uses functionality that is not supported by your current browser. Consider upgrading your browser.
(Images from Getty Images.)
3.
Your country needs code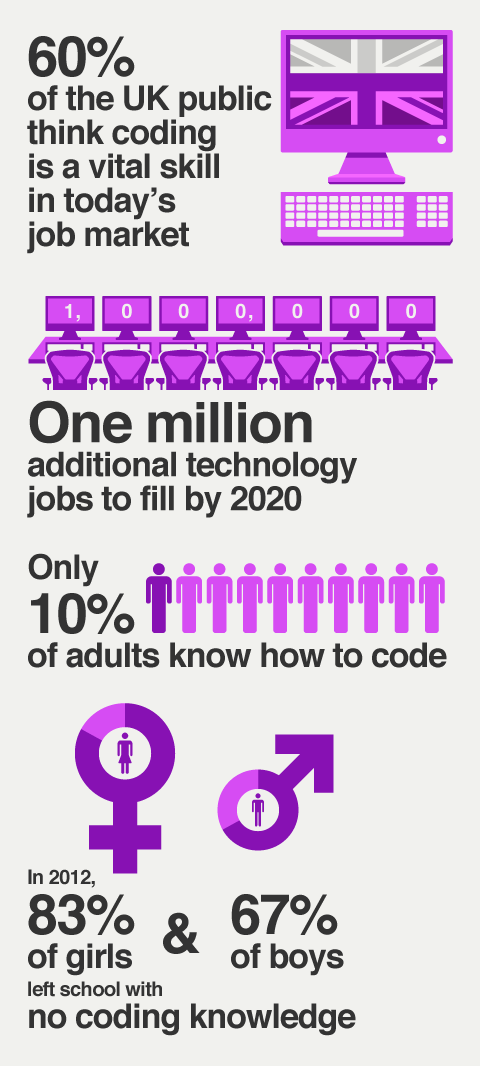 It's dawning on lots of people just how valuable coding skills are in today's job market. It's also becoming obvious that being able to do a bit of code can give you the edge in your chosen career. (Data from Go ON UK, YouGov and O2.)
4.
Which coding language?
Choosing which coding language to learn depends on what you want to do with it. Click on a code type below to reveal how it's used.