1.
There's something about Mary
The Virgin Mary, mother of Jesus, is one of the most famous women in history. She is a key figure in the Christian story and has inspired worship, art, music and pilgrimage for 2,000 years. It's not only Christianity that honours Mary - she is the only woman mentioned by name in the Quran, in which she has her own chapter.
For her supporters, Mary is a remarkable woman - a symbol of godliness and strength. But her critics – including Simone de Beauvoir, the godmother of feminism – berate the church for using Mary to create an inferior and unrealistic model of femininity. Richard Dawkins has described her as, a "submissive cosmic doormat" that has held back women for thousands of years.
How is it that Mary can be interpreted either as a powerful woman who elevates the status of womanhood in Christianity, and at the same time, as a tool of female oppression?
3.
Hail Mary - the Virgin in numbers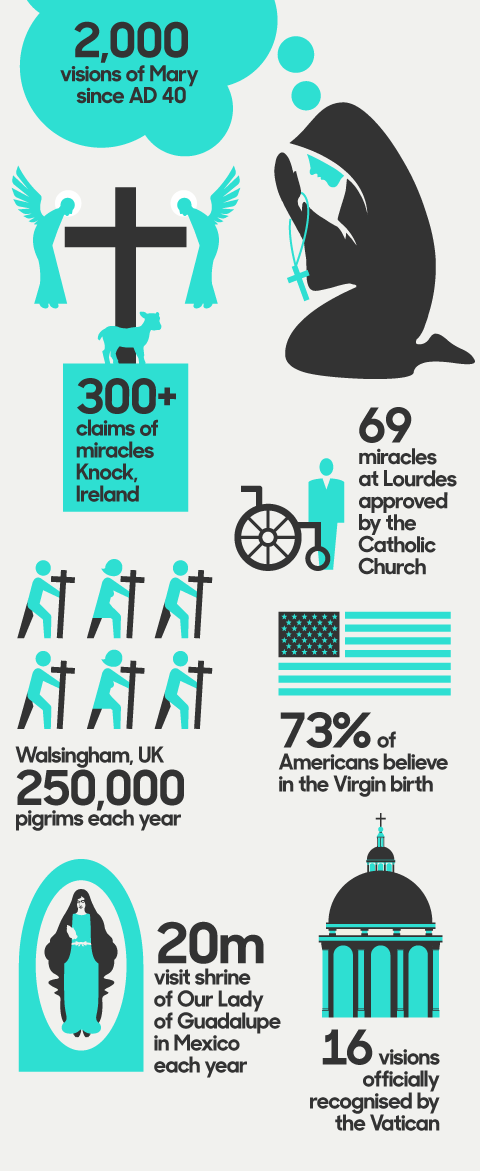 Mary is one of the most popular figures in Christianity. Her power and holiness have led hundreds to report apparitions, attribute miraculous events to her divine intervention and make pilgrimages to Marian sites.
4.
Reimagining Mary
Click below to uncover why feminist thinkers have traditionally criticsed the Virgin Mary - and how others are now recasting her as a progressive role model.
This content uses functionality that is not supported by your current browser. Consider upgrading your browser.
5.
Do you think Mary is a role model for women?