1.
Counting the costs
Scenes of mayhem erupted across England on Black Friday last year as shoppers scrambled to get their hands on bargain Christmas presents. But in 2015 the much-anticipated store frenzy failed to materialise.
That said, we're still spending. UK consumers are buying more than ever online, choosing to shop via the internet and eschewing the seasonal High Street struggle.
So are we still Christmas big spenders, or are we becoming a nation intent on living within our means? BBC News crunched some numbers.
2.
Laying on a feast
The food
Christmas food and drink is getting cheaper - unless you like your beer and whisky. BBC News looked at the data for 18 items that make up a typical Christmas dinner and found the average total price had risen from £103 a decade ago to £138 today. It may surprise some but, when prices are adjusted for inflation, food costs £4 less now than it would have in 2005 - and almost £10 less than in 2010. And it's an especially good year for sprout lovers, with prices at a five-year low. In 2010, bad weather caused a shortage and sent prices up to £9.55 a kilo (2.2lb) in today's money - almost as much as the turkey.
The drink
A bottle of blended whisky will cost on average £24.55 this Christmas, which is a 10-year high. But the increase of 23p on last year is small compared to the big jump in a six-pack of beer, up from £5 last year to £7.18. "We've seen alcohol prices rise across the board this festive season, so the rise in the price of beer is unsurprising," said Kim Ludlow, the managing director of mySupermarket.co.uk, whose analysts produced the figures.
3.
Do you remember these toys?

BBC
Source of information: Toys R Us
Parents might wince at the recommended retail price (RRP) of the latest computer games consoles, like the Sony PS4 or the Xbox One (which range from £229 to £300 and above). But in 1985 an Amstrad home computer would have cost a lot more, when its price tag is adjusted for inflation. This graphic shows how much the top toys cost 30 years ago - and what that would be in today's money. Even with inflation, many would have left parents with change from £20. They will be hard pressed to find such a bargain among the predicted bestsellers for 2015. The latest incarnation of the Star Wars Millennium Falcon sells for more than £100 while some of the most popular Lego sets are around £80 (RRP).
4.
Why top sellers will set you back
Cheapest predicted bestsellers are £19.99
Parents determined to fulfil their children's every wish can expect to count the cost if they want them to unwrap all of the predicted popular toys on Christmas Day. The toys the likes of Argos, Toys R Us and independent retailers expect to sell in high numbers cost a minimum of £19.99 at RRP. This year's 12 predicted bestsellers from the Toy Retailers Association, including the latest Star Wars spaceships and Lego sets, come to a total of £717.90 at RRP. Of course, many shops reduce prices or put on special offers so savvy parents must shop around.
5.
So are we tightening our belts?
Spending less
Figures from a survey by YouGov show that households expect to spend less this year than in 2014 - £796 on average. It is the lowest level since 2012 and a drop of £24 on 2014. It seems we're cutting back on food, drink and gifts, as well as cards and decorations.
Why?
A combination of fierce competition between retailers, coupled with families still feeling the after-effects of the economic downturn, could be behind the pattern.
But beware overspending
Marc Gander of the Consumer Action Group said: "I'm sure that parents are in a huge dilemma. It breaks their hearts when they get themselves into debt simply to bring their children a little magic and to make sure that their kids feel that they're not left out or inferior to their friends. I have always thought that this time of the year is really Christmas for payday loan companies. It's happy Christmas for the parents and the children - and a prosperous New Year for the payday loan industry."
6.
What do the experts say?
Temporary blip
Professor Philip Hancock, from the University of Essex Business School, said: "The projected decline in household spend is unlikely to be due to any significant rejection by consumers of the commercial demands of the season. More likely, it's a consequence of retailers reducing prices, combined in the longer term with ongoing uncertain economic conditions. Consumers are either less able or less prepared to spend beyond their means to have a good time."
Or long-term shift?
Marianne Clough, of debt counselling charity Christians Against Poverty, said: "I would like to think that people are realising they don't have to spend an arm and a leg to celebrate Christmas. We have been helping people to keep to a budget, putting a little bit away each month. When they get to the point where they are doing their shopping they are gobsmacked at how much they have in the kitty. And that's a nice feeling."
7.
Vote: Do you worry about Christmas spending?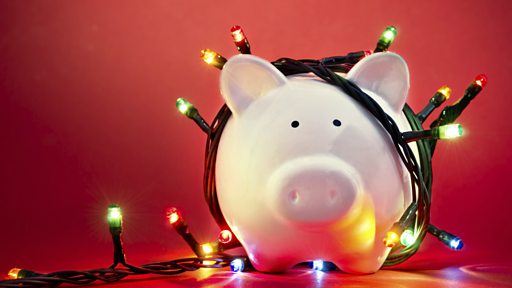 Festive food and drink prices might not be rising beyond inflation, but Christmas is still an expensive time. Do you worry about the cost?