1.
English underdogs
At the Battle of Agincourt, England lost just a few hundred men: the French army lost thousands.
England and France had been bitter enemies for years. When they met on the battlefield – 600 years ago – on 25 October 1415, the odds were stacked against English King Henry V. He had fought a hard-won siege at the port town of Harfleur in Northern France, losing many men. He then lead his army through the French countryside to the English-held territory of Calais. They were exhausted, their numbers depleted by dysentery and demoralised, and now the French stood in their path near the French village of Azincourt.
Yet just three hours later, Henry won a battle which is still celebrated as one of England's most stunning military successes. Find out how Henry beat all the odds to clinch a remarkable victory against the French at Agincourt.
2.
A cast of kings and nobles
In Henry V's era, kings and dukes fought alongside common soldiers. Click below to reveal the key players in the Battle of Agincourt.
3.
The battlefield in numbers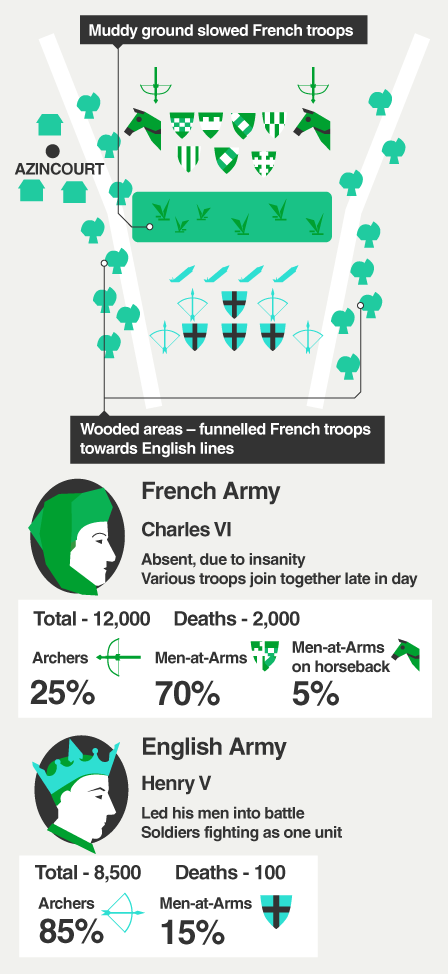 BBC / Professor Anne Curry
4.
CLICKABLE: The medieval machine gun
Many believed the English longbow was the biggest factor in Henry's success. Click to reveal what made it such an effective killing machine:
This content uses functionality that is not supported by your current browser. Consider upgrading your browser.
Image credit: BBC/ Neal Street Productions, from 'The Hollow Crown' (2012)