1.
Word words words
Shakespeare has long been considered the master of words, with the largest vocabulary measured. And although we may not all want to speak like Shakespeare, there are often occasions were we might wish we had a better vocabulary, or knew how to express ourselves more accurately.
Some critics say our use of language has lost some of its grandeur, becoming eroded by abbreviations and 'text speak'. But, while the length of our words may be getting shorter, their range is expanding.
Every hobby and interest carries its own collection of words to describe it, from sci-fi to sport, and different industries use specific jargon. So there are a lot of words out there, but can you calculate how many you know?
2.
Lexicon lover?
Watch this short animation explaining how to test the size of your vocabulary:
Test devised by linguist, writer and broadcaster, Professor David Crystal.
3.
Is your vocab bigger than the Bard's?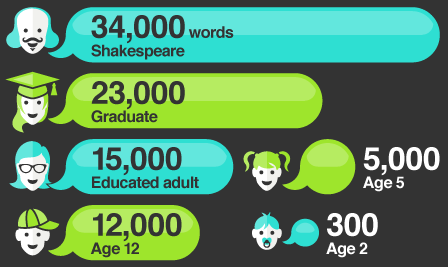 4.
QUIZ: What does it all mean?
See if you possess the wherewithal to efficaciously navigate our succinct examination:
This content uses functionality that is not supported by your current browser. Consider upgrading your browser.
5.
Becoming a thesaurus
What can I do to expand my vocabulary?