1.
How did we get here?
On 1 January 1973, the Union Jack was raised in Brussels as Wales and the UK joined the European Economic Community (EEC) - the forerunner to the European Union (EU). Two years later, an overwhelming majority of British people rubber-stamped the decision in a referendum.
But as the EEC became the EU and membership swelled from 9 countries to the current 28, calls grew for another referendum.
Following victory in the 2015 general election, David Cameron kept his promise to offer a public vote on the UK's membership of the EU. So, on 23 June 2016 people in Wales and the UK will be asked to answer the question: Should the UK remain a member of the EU or leave the EU?
3.
EU economic aid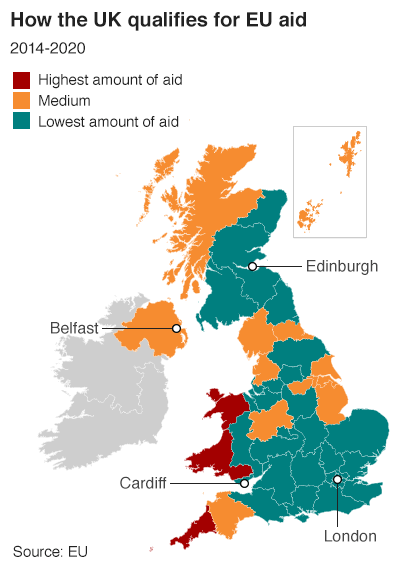 Structural funding, as it's known, is Brussels' way of trying to boost the poorest parts of the EU. Back in 1999, when parts of Wales first qualified for this economic aid, the then first minister Rhodri Morgan hailed it as a "once in a generation opportunity". But, because its GDP is less than 75% of the EU average, West Wales and the Valleys still receives the highest level of funding. As a relatively rich region, East Wales receives the least amount of money. By 2020, Wales will have received more than £5bn in structural funds. EU supporters say Wales would suffer without it but opponents say the money is simply re-cycled – our annual contribution to the EU pot coming back to us.
4.
Campaign issues
David Cameron started the firing gun on the EU referendum campaign when he announced in February that the vote will be held on 23 June 2016. With the debate well under way, our political reporter James Williams takes a look at some of the issues:
5.
How did Wales vote in 1975?
A prime minister under pressure because of splits within his party offers a referendum on Europe.
The political realities facing David Cameron uncannily mirror those that lead Labour's Harold Wilson to call for a referendum on the UK's membership of the EEC back in 1975.
The Labour leadership, as well as the Conservative hierarchy, supported the YES campaign.
But some Labour cabinet members, future party leader Neil Kinnock, and Plaid Cymru (bar Dafydd Wigley and Saunders Lewis) were on the NO side.
At the outset, it was thought Wales would vote heavily against the EEC.
But 64.8% of voters in Wales backed continued membership - only slightly lower than the UK-wide 67.2% of support for a YES vote.