Please turn on JavaScript. Media requires JavaScript to play.
1.
An American love affair
For a poet whose work is so closely identified with provincial Wales, Dylan Thomas has a surprisingly high profile across America – where he is arguably more celebrated than in the UK.
Thomas was born in Swansea in October 1914. Though he travelled frequently to London to work, for him the chance to visit America represented a long held dream. As a lover of cinema and American poetry, Thomas viewed the USA as a promised land where he believed he could make a living to support his family.
He had to wait until the last years of his life to cross the Pond, fitting in four tours between 1950 and November 1953. To understand the foundations of his legacy in America, we have to explore the work he did there and his death in New York.
2.
Why did Dylan Thomas go to America?
Dylan Thomas was a lifelong fan of cinema, and this love of movies and pulp fiction gangster novels made America a dream destination for him.
It has been suggested that Thomas was following in the footsteps of one of his own greatest literary heroes – Charles Dickens – who had undertaken a series of celebrated reading tours of America.
However, the main reason for embarking on his reading and lecture tours of America was because of a dire need for money. Throughout his brief life he was always short of money, but by the early 1950s, with a wife and three children to support and no proper job, things were getting desperate.
Thomas already had a US following and a publisher, New Directions Press. His first American book, The World I Breathe, was published in 1939. Dylan wrote that he would like to visit the States as early as 1945, and his yearning for America grew steadily.
But it was to be another five years and the intercession of long-time admirer John Malcolm Brinnin that finally got Thomas across the Pond. When Brinnin became the director of the Young Men's and Young Women's Hebrew Association Poetry Centre, known today as the 92nd Street Y, one of the first things he did was to invite Thomas to read there.
Thomas responded with great enthusiasm. Brinnin inadvertently became his US agent and tour manager, and thus on 20 February 1950 the Welshman flew to America on what was to be the first of four visits.
3.
His American tours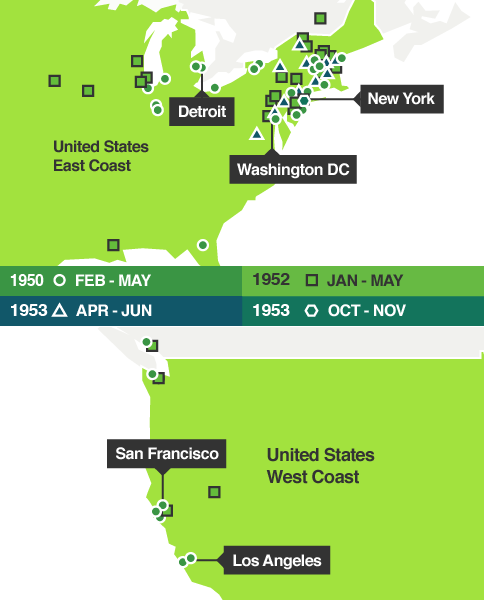 His tours across America made him an iconic figure on college campuses and the developing Beat poets and writers, such as Allen Ginsberg, Jack Kerouac, Lawrence Ferlinghetti and Gregory Corso, saw him as a hero and inspiration.
4.
The Caedmon connection
It is clear that during these tours his voice and performance was as much of a draw as his writing. This led to Thomas inadvertently kickstarting the audiobook industry.
In 1952, after hearing him at a reading, the fledging Caedmon Records asked Thomas to make a recording for them. Thomas turned up with insufficient material to fill both sides of an LP record.
When asked what else he could read, Thomas remembered that he had sold a short story, A Child's Christmas in Wales, to the US magazine Harper's Bazaar in 1950. An edition of the magazine was hurriedly found by the record label's owners and Thomas narrated that in the studio.
The recording became one of Caedmon's most successful releases. Thomas was their first and best-selling 'voice'. By 1962, 400,000 Dylan Thomas LPs had been sold. It helped to cement his place in American history.
It was only following the success of the audio recording that the short story was published as a book, by Thomas's American publishers New Dimensions in 1954. It remains one of Thomas's most loved works, not just in America, but worldwide.
5.
Under Milk Wood premiere
The premiere of Under Milk Wood, probably Dylan Thomas's best known work, actually took place in America.
It was first performed on stage on 14 May 1953 at Brinnin's Poetry Centre in New York. Dylan Thomas played the roles of First Voice and the Reverend Eli Jenkins among others, while five young American actors voiced the rest of the many roles.
It was never planned that Under Milk Wood should have its premiere performance in New York. It was more a case of chronological happen-chance, a 'right place right time' scenario.
Under Milk Wood had a long and sometimes tortured gestation. The BBC had commissioned the radio play from Thomas in late 1950, and it is likely that he had written about half of the play by the autumn of 1951. After a suggestion by Malcolm Brinnin the following year, Thomas agreed to have the script finished in time for his third US tour, where it could be performed at the Poetry Centre.
Thomas arrived in America on 21 April 1953 for the tour. The manuscript was still unfinished on his arrival, but he completed the draft just hours before the performance. The actors were handed amended scripts – with unseen passages – shortly before they went on stage.
A recording of this production, again made by Caedmon, is the only existing audio of Thomas performing his famous work.
6.
Death in New York
Dylan Thomas died in New York City in 1953 very publicly, and he took a torturous few days over it. He was just 39, and his death was reported across the States in every newspaper.
Due to his unexpected and premature death there, America will always be able to hold a claim over the Welsh writer. Four days after his death in the city, New York held a memorial service at the Church of St Luke's in the Field, which was attended by around 400 people.
Many of Thomas's manuscripts, books and other memorabilia are housed in many US institutions. These include the University of Texas, Houston; the New York Public Library; the Morgan Library in New York; Harvard Library and the Library of Congress in Washington DC.
There is a dedicated Dylan Thomas walking tour of Greenwich Village that stops by some of the most famous locations associated with the writer. These include Patchin Place, where Dylan would visit the poet EE Cummings, and old haunts such as the Minetta Tavern and the White Horse Tavern.
During his tours, and through his writing, Thomas gave Americans a taste of Wales that they are still keen to sample today – a number of tour operators still organise specialised Dylan Thomas trips for American tourists.
On a presidential visit to Britain, Jimmy Carter was surprised to find that Dylan Thomas had not been honoured in Poets' Corner in Westminster Abbey, and lent his support to the successful bid to get him recognised.
7.
Why the enduring legacy?
Dylan Thomas is still held in high regard in the USA decades after his death. What do you think is the most important factor behind his enduring popularity?