1.
The most valuable company in the world
In February 2016, Google briefly overtook Apple to become the most valuable company in the world – worth more than $500bn (£350bn).
In 2015 alone, Google had revenues of $75bn (£53bn). That's about £1,675 a second. Yet its core service – search – costs nothing to use. So how does it make all its money?
2.
In numbers: Google in 2015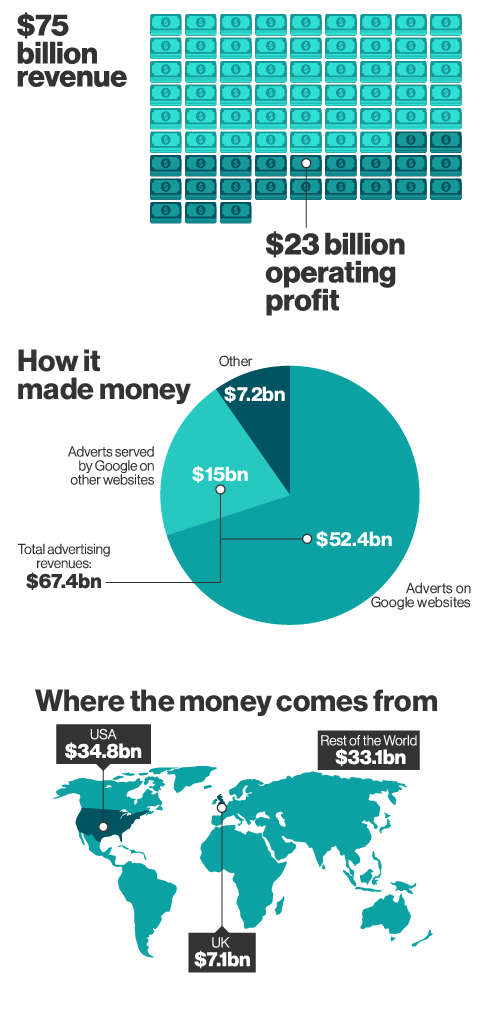 Source: Google 2015 annual report (submitted to US Securities and Exchange Commission)
3.
A way with words
Google makes most of its money from selling advertising opportunities on the search pages so many of us use.
Advertisers bid to have ads for their products or services displayed on relevant search query result pages. A combination of the amount bid and the quality of a potential ad influences if an advertisement will feature at the top of the page, where more users are likely to see it. In order to encourage efficient bidding practices, Google uses a Vickrey auction system. Bidders don't know their rivals' bids. When all bids are in, the highest bidder wins but actually pays the price of the second highest bidder.
But that's not the end of it. Google also takes into consideration the relevance of the advertiser's landing page to the search query. For example, if an advertiser has a page which is all about car insurance, it would have to bid less to appear high up in the paid advertising results for a user googling "car insurance" than an advertiser who has a page on general insurance. Google calls this 'Quality Score'.
Charging for every click
The attraction of the service to advertisers is they can target advertising at Google users who have already expressed an interest in what the advertiser sells and ignore Google users who have not. This is known as contextual advertising. Furthermore, advertisers only have to pay Google after someone has actually clicked on one of the ads they bid to have displayed – and they can set budgets to limit their monthly spend.
Released in 2000, Adwords remains the primary source of Google's revenue. But Google also makes money from advertising when you're not on one of its sites at all. Its Adsense network places adverts on partner sites – from blogs to major content publishers – with the search giant taking a share of the revenue.
4.
INTERACTIVE: Searching for profits
Since its launch in 1998, Google has grown enormously in terms of both its revenue and its expanding portfolio of products. Hold and drag the icon to see how this growth has unfolded.
This content uses functionality that is not supported by your current browser. Consider upgrading your browser.
Image courtesy of Getty Images. Google revenue by year in billions of dollars.
5.
Cost per click
Which of these four search terms do you think commands the highest price for UK advertisers? (Data correct as of March 2016)