1.
The holiest month in Islam
Every year I join nearly three million Muslims across the UK to observe Ramadan. It is the name given to the ninth month in our religious calendar and it is a particularly sacred time.
Most people think Ramadan is all about fasting from dawn to sunset. And that's part of it, but not all of it. Discover how the 30 days we spend fasting helps us enrich our lives and those around us.
2.
WATCH: The significance of Ramadan
During Ramadan Muslims endeavour to adhere to three types of worship. Sawm (fasting), Zakat (charity) and Salat (praying). These are three of the five pillars of the Islamic faith. The other two are Hajj (pilgrimage to Mecca) and Shahada (belief in one god).
The origin
It was in the ninth month in 610CE when Muslims believe the Qur'an was first revealed by God to his messenger on Earth, the Prophet Muhammad. Muslims decided this event should be commemorated with a period dedicated to extra worship. The key tenet became fasting.
The first fast is believed to have occurred in 624CE when the Prophet Muhammad persuaded the residents of Medina, in modern-day Saudi Arabia, to forgo their food and give it to poor worshipers who had followed him from Mecca.
How we practise today
Muslims try to purify body and mind during Ramadan. Besides fasting from dawn to sunset, Muslims also abstain from sex, smoking and avoid gossip to concentrate on personal reflection and prayer.
When the sun has set, we break our fast with friends and family, in a ceremony known as the iftar. After 30 days the end of Ramadan ushers in a festival known as Eid al-Fitr. This is when Muslims can collectively end their period of fasting with a celebratory party.
3.
Beyond fasting
Fasting is a very personal form of worship. But there are also other ways in which we observe Ramadan together. Click below to find out more.
4.
Ramadan in numbers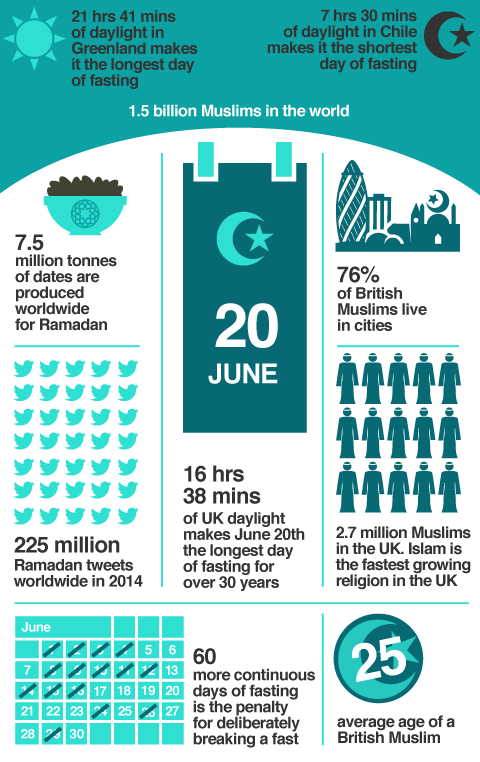 Source: The Muslim Council of Britain, Twitter and FAOSTAT.
5.
How does the UK benefit?
Ramadan gives Muslims a feeling of being mentally and physically cleansed and closer to God. But it also has other benefits. Click below to find out more.