Please turn on JavaScript. Media requires JavaScript to play.
1.
Essential for life - increasingly scarce
Nearly two million people die from a lack of safe drinking water every year. And by 2030, half the world's population could be living in areas of high water stress - places where there isn't enough water to go round.
Our planet does contain over a billion trillion litres of water. But very little of that is safe to drink. Over 97% of water on Earth is salt water. Of the fresh water that remains, over two thirds is locked away in ice caps and glaciers. Most of the rest is trapped in soil or underground aquifers. That leaves a tiny fraction available for us to use.
And it isn't just drinking water that we need. Almost everything we do involves water in some way.
2.
How much do you use?

It's estimated that the average person in the UK uses about 3400 litres of water every day. That's hard to imagine if you just think about drinking water, flushing the toilet and taking a shower. But most of it comes from 'hidden' water usage; the water needed to grow the food we eat and make the products we use. The total global requirement for water is over four trillion litres a year. Our natural sources of water are no longer enough.
3.
If water runs dry
We've long known that a shortage of clean drinking water is going to become a major global problem.
What is not clear is exactly what will happen when water supplies run dry and neighbouring nations or communities have to compete for the same, limited resource.
Experts and governments have predicted a range of possibilities. Famine could ensue if a country can't grow enough food. Poor drinking water supplies means more people will drink from dirty sources, and water borne diseases such as typhoid would spread more quickly. And conflicts between nations over water resources could become armed conflicts.
In the UK, we are more vulnerable to problems with the global water supply than we might think. 40% of our food is imported, much of it from areas of high water stress. Problems in these regions will directly impact prices and food availability here. This happened in 2008, when droughts and high oil prices helped trigger a global food crisis. In the UK, the costs of milk and fresh vegetables rose by up to 30%.
4.
Making dirty water clean
Scientists have come up with a range of technologies that could help us deal with the growing water crisis.
5.
Seawater to fresh water - the magic solution?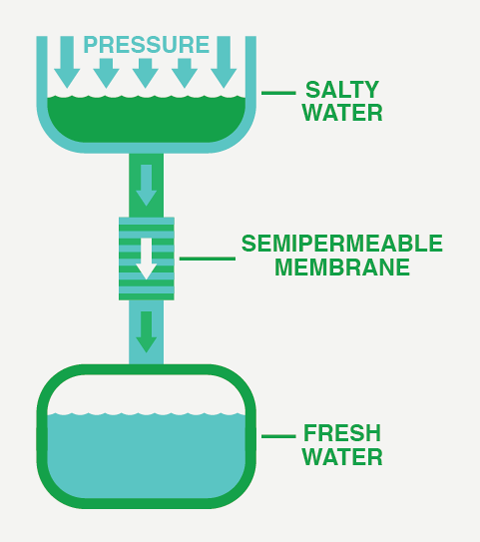 Desalination – turning sea water into fresh water – seems to be the best solution to the water crisis. But it's not as simple as it sounds. In nature, a process called osmosis makes water move through a semipermeable membrane from areas of low salt concentration to areas of high concentration. But for desalination to work, it needs to move the other way. Lots of pressure is needed to force the water through the membrane – and that's energy intensive and expensive. If desalination is going to be a realistic source of fresh water, we either need lots of cheap energy, or a way to make the process more efficient.
6.
Could technology make desalination a reality?
Providing power for desalination in remote places or making it more energy efficient, could help solve the water crisis. Would one of these technologies help?