Would Formula 1 be more thrilling without cutting-edge tech?
Open navigator
1.
Flagging thrills?
Some say the Formula 1 thrill has gone. In a 2015 poll of over 200,000 fans by the Grand Prix Drivers' Association, many said races had become "expensive", "technological" and "boring". Is this really the case?
Formula 1 drivers love to push their cars to the limit in their quest to reach the chequered flag first. But the sport of F1 has always been defined as much by the state-of-the-art technology as the heroics of the drivers. The relentless search for a winning formula has inevitably led teams to embrace complex computerisation and mathematically modelled aerodynamics.
Looking back to when cars were more simply engineered, we'll explore whether today's F1 has the right balance of driver skill, innovation and sheer thrilling sport.
2.
INTERACTIVE: Racing through time
Click or tap below on the hand icon, then drag the slider to see the evolution of F1 tech through championship-winning cars
This content uses functionality that is not supported by your current browser. Consider upgrading your browser.
Since its inception in 1950, Formula One has driven technological revolution, with engineering brilliance being as much a part of the sport as skilful driving.
3.
WATCH: Sticking to the road
The wings of an F1 car are part of the sport's visual signature. But they are at the heart of a debate about tech's impact. McLaren-Honda F1 test driver Oliver Turvey examines the ingenious methods employed to keep the car on the track.
4.
CLICKABLE: Driven to distraction
This content uses functionality that is not supported by your current browser. Consider upgrading your browser.
Formula 1 steering wheels are now a complex array of buttons and dials that demand drivers' constant attention. Click or tap on the hand icon, then on the labels, to discover what they have to deal with while travelling at high speed.
5.
Engine evolution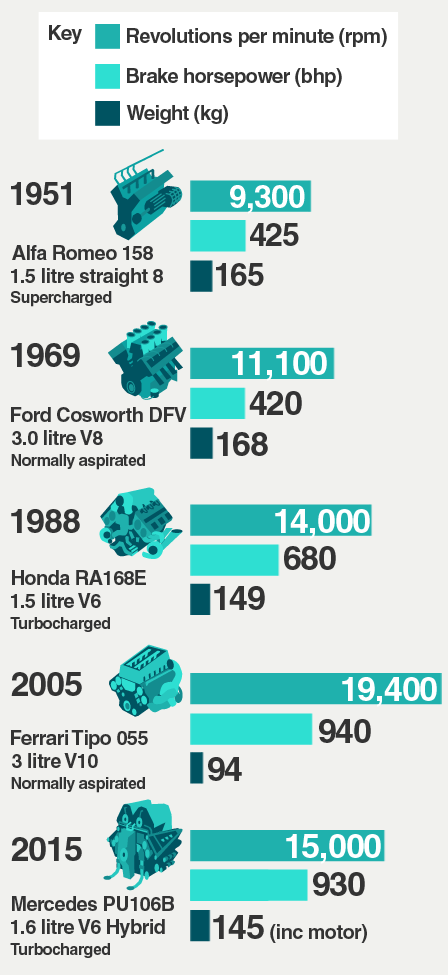 Engines are at the heart of F1 – supplying both the power and the noise that makes F1 so exhilarating to fans. F1 has seen many 'arms races' in engine technology. Now, new team rules emphasise sustainability and greener technology. The frequent regulation changes have 'levelled the playing field' more than once, allowing teams that develop ingenious solutions to flourish.
6.
Are races getting closer?

Data from Autosport FORIX service. Finishers refers to cars that completed at least 90% of a race.
If some fans feel modern technology makes F1 less exciting, then statistics tell a different story. Modern races see more overtaking than a decade ago, closer racing than the supposed golden era and far fewer race retirements.
7.
Jenson's judgement
Formula 1 is in a perpetual state of change as the technology and regulations that govern the sport organically develop and mutate – usually for reasons of safety or cost.
Throughout my Formula 1 career, I've raced a wide variety of Grand Prix cars. I've driven normally aspirated V10s and V8s and turbo-charged V6s. I've raced on grooved tyres and on slicks with and without refuelling, both with traction control and when it was banned.
The sport needs to balance technological brilliance with genuine sporting endeavour – which is why regulations need constant rewriting. People say today's cars are easier to drive than those from the past – but drivers these days are multi-tasking in the cockpit, not only assessing race strategy but working throughout each lap to adjust and refine the car set-up as the track conditions change.
For me, Formula 1 has always been about being at the very pinnacle of racing technology – the cars may have changed through the years, but they've always been at the extreme limit of what's technically possible.
Having said that, I still have a soft spot for the cars we raced back in 2004. These were hugely powerful V10 cars, able to rev to almost 20,000 rpm and, to this day, the fastest and most powerful racing cars the sport has ever seen. Some of the lap records established back in 2004 still stand – that's how fast those cars were.
I think the spectacle of Formula 1 – fast cars driven by the world's best drivers – is what makes it so popular. But technology definitely plays a role in its appeal. I think people like the fact that the cars are designed and developed by the world's best engineers meaning the quest for technical dominance co-exists alongside the desire for sporting dominance.