Is jet travel becoming the dirtiest way to cross the planet?
Open navigator
Please turn on JavaScript. Media requires JavaScript to play.
1.
Our insatiable appetite for jet travel
The ability to hop on a plane and reach Glasgow, Berlin or Tokyo in a matter of hours is something many of us take for granted. Jet travel has opened up our world for adventure, business and trade – and underpins the global society we live in.
But aviation comes at an undeniable cost – carbon emissions. While radical advances have been made in low-carbon fuel options for cars; passenger aircraft are a long way behind.
With eight million of us flying everyday and the numbers increasing with every passing year, can a sustainable future for global air travel be found?
2.
Age of the jet set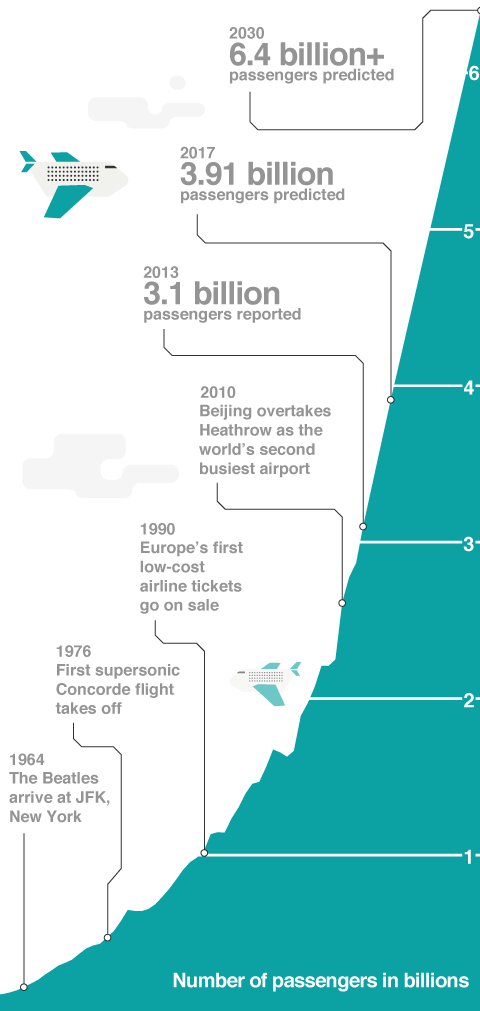 Since the first commercial flight took off from Florida in 1914, there has been no stopping the rise in passenger air travel. The jet-setting celebrities of the 1960s paved the way for a new era of foreign holidays and global workplaces. Now, passengers numbers are increasing at a phenomenal pace each year. This growth is partly driven by the arrival of low cost airlines, worldwide. The largest growth is being seen in Asia Pacific and the Middle East. While Atlanta International Airport has for many years seen the busiest passenger traffic, Beijing and Dubai look set to catch up with their rapidly rising traveller numbers.
3.
The carbon cost of flying
Burning jet fuel creates huge quantities of carbon dioxide. In 2012, 689 million tonnes of carbon dioxide were emitted from planes – representing 2% of all human carbon emissions. But if air travel continues to grow at the predicted rate, it could contribute a considerably higher proportion by 2050.
Carbon dioxide is a major greenhouse gas – it traps the Sun's energy within our atmosphere, making the planet's average temperature rise.
Most climate scientists think that man-made greenhouse gases have caused most of the global warming since the mid-20th century. The temperature of our planet has risen by around 0.8C over the past 150 years, with further increases predicted in the coming decades.
If temperatures increase more than 2C from their levels before the industrial revolution, we could see dangerous changes for our world. We've already seen rises in global sea levels, shrinking of ice sheets and more frequent patterns of extreme weather.
If countries like the UK are to meet their stated climate change targets and make significant reductions in carbon emissions, lowering the carbon cost of air travel will be vital.
4.
Reducing the carbon footprint of planes
Some progress has been made in the past decades to reduce the carbon footprint of jet planes. However, there's a limit to what can be achieved by these means.
5.
Is zero carbon flight possible?
To truly wipe the carbon footprint of aircraft, we need to find a radical new zero-carbon fuel. Could any of these four innovations be the future of air travel?