1.
Merry Christmas
Christmas is celebrated by more people around the globe than any other religious festival. But this wasn't always the case. For much of their religion's early history, even Christians didn't mark the birth of Jesus. They were more interested in the circumstances of his death.
We often think of Christmas as a time of tradition: a chance to re-live rituals we enjoyed as a child. Yet Christmas has changed beyond recognition over the years. It has absorbed pagan practices, evolved as the Church has changed and even survived attempts to cancel it. Explore the surprising history of the festival we know today.
2.
CLICKABLE: the original Christmas story
There's no definitive telling of the Christmas story as we know it in the Bible. Select the hand icon and discover how the nativity story has emerged from different accounts of Jesus' birth.
This content uses functionality that is not supported by your current browser. Consider upgrading your browser.
The birth of Jesus, known as the nativity, is detailed in two of the four gospels of the New Testament – Matthew and Luke. But these Gospels give different accounts of Jesus' birth. (Image: The Nativity with the Adoration of the Magi and Shepherds, an Andean Landscape Beyond (oil and gold paint on canvas), Peruvian School (18th Century) / Private Collection / Bridgeman Images)
4.
Christmas in numbers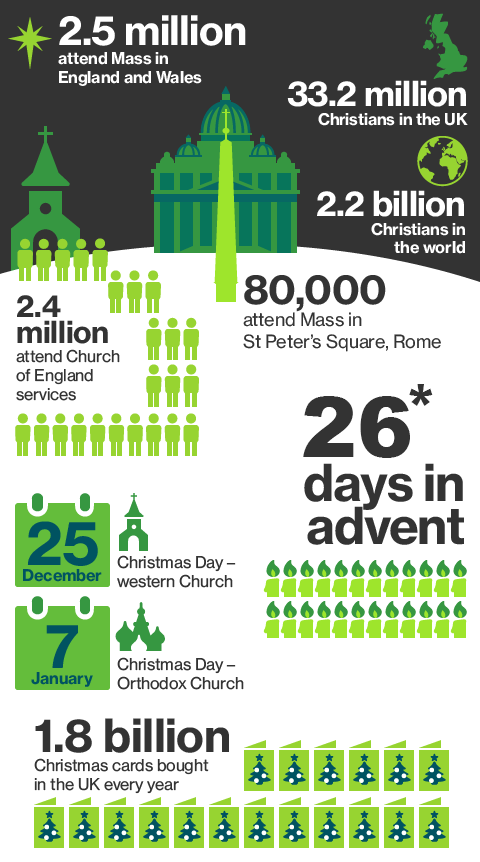 *2015 figure; length of advent varies year to year
Catholic Bishops' Conference of England and Wales (best estimate), Church of England (2013), Census data (2011), Pew Research Center (2010), Greeting Card Association Market Report (2015)
5.
Christian and pagan
Can you guess which of these familiar Christmas traditions actually have pagan origins?