Meet Katherine Bradshaw-Jones, Senior UX Writer
Katherine talks about kitesurfing in Mexico, her love of books and hopes for technology having a positive impact on mental health.
Contributors

BBC UX&D Staff
Insights from BBC UX&D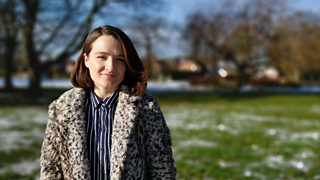 In this instalment we meet Katherine Bradshaw-Jones, Senior UX Writer.
How do you explain what you do for a living to a child?
I write the words that guide you through apps and websites. You can even hear my words on Alexa (just ask her to 'open CBeebies'). I find out what people need to do when they're online, and use language and content to help them to do it.
Name one favourite thing and one challenging thing about your role?
UX writing is a relatively new discipline, so nothing about my role is pre-defined. I love the freedom and opportunity that comes with that. I also really enjoy contributing to, and learning from, the wider UX writing and content design community (which is growing rapidly!).
As the baby of specialisms in UX&D, UX writing is still finding its feet within our wider design practices. Building an understanding of my role as something beyond 'just the words' is one of the biggest challenges I face day-to-day.
What was your journey before coming to the BBC?
I studied English at university, then after graduating got a job at a small PR and marketing agency in Cardiff. It was a really fun and creative role, which made me realise it's possible to get paid for writing.
Around 18 months later, I had one of those early-twenties 'is this all there is to life' moments, gave up my job and went to Mexico with my brother, where I worked as a marketing manager for a kitesurfing school. I toyed with the idea of becoming a kitesurfing instructor (the lure of beach life was strong), but ended up returning to Cardiff to set up home with my now-husband.
I'd always been interested in digital, so when I got back to Wales I took a job as an account manager at a digital agency. I learned loads about techy stuff while I was there, and that knowledge still comes in very handy ten years on.
Then, the big change. I became a mum in 2011, and decided to go freelance to juggle parenthood and work. I did a bit of content marketing, but quickly settled on copywriting as my niche and spent six years building a freelance business before joining the BBC as a UX writer in 2017.
What's the worst job you've ever done?
Probably working as a recycling officer at an agricultural show in one of my summer breaks from university. I spent hours hanging around bins in a high-vis vest and green cap, making sure people disposed of their rubbish correctly. A considerable amount of time was spent wading through skips, too.
If you could explore any other profession, what would it be and why?
I'd be a doctor (I wanted to study medicine before getting sidetracked by my love of books). Or I'd open a soup cafe, because I really really love soup. In a parallel universe, I'm a best-selling author of dystopian fiction, working from my minimalist home in the hills of southern Spain and shamelessly living the clichéd writer dream.
If you could travel back in time and give yourself one piece of career advice, what would it be?
Don't compare yourself to others. Careers travel in a zigzag, not a straight line, so comparison is pointless. And be okay with taking it slow from time to time. Nothing's ever worth the pain of burnout.
What's on your playlist right now?
Jamie Lidell, Chvrches and Regina Spektor. I'm not entirely sad that Busted have reformed, either (but shhh, don't tell anyone). I love podcasts too. Dirty John, Caliphate and Heavyweight are a few of my recent favourites.
What do you do to switch off from work?
On a weekday, nothing relaxes me more than an early night with a herbal tea and my kindle. When I'm in the mood, I chip away at the novel I've been writing on-and-off for a year, or listen to a creative writing podcast. Weekends are for having fun with the kids and getting outdoors. I grew up in the Brecon Beacons, so I'm happiest when I'm in the hills. I still kitesurf, but the cold British waters are a big deterrent so it only happens once every few years!
In a world where anything is possible, what is the single most exciting thing you would do with technology?
I'd love to see technology having a positive impact on mental health. I have an ongoing relationship with depression and anxiety, so I'd love to see a change in the way we diagnose and manage mental health conditions using tech. I read somewhere that a healthcare firm has developed a digital pill for mental health, and the implications of that are really exciting (if a little scary!). I do think we've reached a tipping point where unethical tech is giving way to more responsible digital products, so it feels like we're going in the right direction.
What drives or inspires you?
I'm a creature of contradiction. I love the simple life, but I'm also a big fan of change and risk-taking. So I guess I'm driven by a quietly content existence with my family, overlaid with an anything-is-possible vibe. Is that called having your cake and eating it?