Meet Jamie + Lion, Senior Research Engineer
Jamie talks about his journey to the BBC, his four foot long lion and why he's proud autism is his super power.
Contributors

BBC UX&D Staff
Insights from BBC UX&D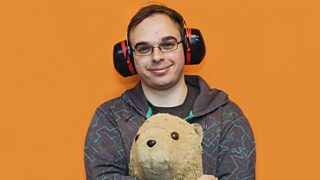 How do you explain what you do for a living to a child?
We have a wonderfully varied audience and it is important that the digital environments we create don't disable anyone using them. I help designers and developers understand what they need to do to make sure we include everyone.
Name one favourite thing and one challenging thing about your role?
The favourite thing about my job is variety. No two days are ever the same and I work across a wide range of interesting tools and technologies.
Part of my role is to support teams making apps and websites. I help them to understand the needs our users have and how they could go about meeting them. For example, how to support assistive technology like screen readers and switches.
Another part of my role is to look at future technologies and then run research to start understanding the needs users will have in the future. My current research focus is virtual reality. It's really pushed me to learn new skills and tools.
The most challenging thing about my job is also the variety. In one week I may work across 6 different development languages and travel 500 miles visiting different people!
What was your journey before coming to the BBC?
I moved to London after selling my company in Somerset. A big step from 10 years of freelancing to take a 9-5 job. I had another role lined up and a gap of 6-12 months. A friend suggested the BBC would be fun. So I interviewed for a role, and it went well. So I stayed.
What's the worst job you've ever done?
I've been lucky really. My working career to date has been self employment or at the BBC.
Tax paperwork is pretty dreary, but even then there's is an odd satisfaction when it's finished.
If you could explore any other profession, what would it be and why?
I really enjoy making things, so I'd love to be a toy model designer! It's a wonderful mix of creativity and engineering.
I think I'd enjoy working for a company with a strong focus on public good, much like the BBC.
If you could travel back in time and give yourself one piece of career advice, what would it be?
I'm autistic; it's a good thing. But for a very long time I thought it was best to hide it. It wasn't a secret but I wasn't being myself.
I'd tell my younger self that I would be happier and do better if I bring my whole self to work. Use my energy for work, not to hide behind a mask.
I have a four foot long lion that goes everywhere with me. He works a little like how a white cane works for a blind person. He makes an invisible difference visible. He's a big part of my life and it's something I'm proud of. You can find out more about Lion on BBC News.
Autism is a super power, I should make the most of it.
What's on your playlist right now?
I mostly listen to podcasts. My favourite is the Accidental Tech Podcast. I also enjoy listening to most of the relay.fm and Radio 4 shows.
When I do listen to music it's an eclectic mix. As much Disney as Queen...
What do you do to switch off from work?
I hate being bored so I tend to have lots of side projects. My current projects include running a software company, building a kit car and customising a mountain bike. I'm also a student pilot working towards my license to fly light aircraft.
For the past year or so i have also been co-hosting a BBC podcast series called '1800 seconds on autism'. We have been busting myths and talking about autistic life. It's been a lot of work but it's been fun to explore a whole new skillset.
In a world where anything is possible, what is the single most exciting thing you would do with technology?
The ability to communicate is the foundation of autonomy and independence.
Many people (myself included) rely on technology to replace or augment their speech.
Speech is already a huge barrier in day to day life and as we move towards a future with voice controlled digital assistants the barrier and impact is getting larger.
Overcoming these barriers is one of the trickiest and most exciting problems in technology.
The potential is massive, we need to make sure it's harnessed for everyone.
What drives or inspires you?
This turned out the be the hardest question to answer!
I am inspired by the power of technology to change lives. That inspiration becomes motivation to explore new ideas and directions.
I'm also motivated and inspired by the remit of the BBC itself. The BBC exists as a universal service to inform, educate and entertain. This is a deceptively simple description for one of the most challenging and rewards tasks in the world.