Mozzarella with basil crust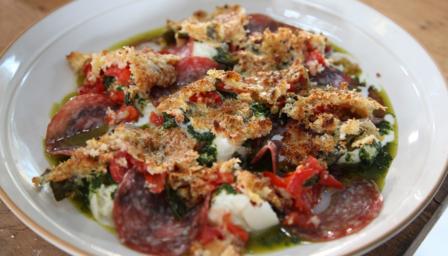 Pizza is a perfect example of the brilliant marriage of soft and crisp. This new take uses classic pizza topping ingredients - silky mozzarella, salami and basil- and just uses them in a slightly different way with a crunchy ciabatta and tomato crust.
Preparation method
Start by slicing the tomatoes in half and scooping out the watery seeds. Roughly slice and spread them onto the base of an oven dish. Tear half the basil leaves over the tomatoes.

Make use of the end of an old loaf by blitzing it in a food processor. Not too finely; different sized crumbs give you that desired crunchiness. Scatter the crumbs over the tomatoes then finish your crust off with a generous handful of grated parmesan, black pepper and a trickle of olive oil. Slide the dish under a hot grill for approximately five minutes till it starts to crisp.

Take the two mozzarella slices and roughly tear each one into thirds, laying them on a wide serving plate. For a vibrant dressing to contrast against the milky white cheese, blitz up your remaining basil and parsley with a few hearty glugs of olive oil. Pour over the mozzarella.

Now for the meat topping in this deconstructed pizza - simply place whole slices of salami evenly around the plate. They will act as little landing pads for the crunchy tomato crust.

Check that the crust is crisp and golden, then carve out large spoonfuls and place on the salami.
By
Less than 30 mins

preparation time
10 to 30 mins

cooking time
Serves 4
Quick recipe finder
Type the ingredients you want to use, then click Go. For better results you can use quotation marks around phrases (e.g. "chicken breast"). Alternatively you can search by chef, programme, cuisine, diet, or dish (e.g. Lasagne).
Advanced search options
This recipe is from...
Recipes from this episode