Sweet onions with lentil stew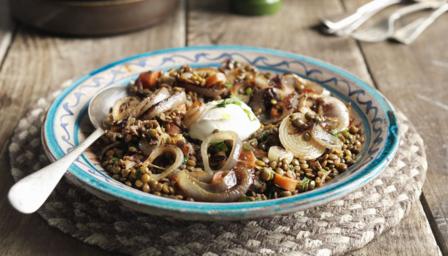 This lentil stew is so comforting – the warm spices are given a delicious lift by the mouth-watering, sweet caramelised onions.
Ingredients
Preparation method
Cook the bacon or pancetta in a deep pan over a moderate heat to let the fat slowly ooze out . Roughly chop two of the onions and add them to the pan. Cut the carrots into chunks and add to the pan. Cover and let it steam for a few minutes. Add the paprika, cinnamon, then grate in ½ of the nutmeg. Add the lentils, stock and 500ml water, cover and leave for 30 minutes until the lentils have softened.

While that is slowly cooking, slice the remaining two onions and, in another pan, cook them very slowly in butter until golden brown. Finish with a grate of nutmeg.

The last thing to add to the lentils is a handful of chopped parsley. Serve with a dollop of crème fraiche and pile the caramelised onions on top.
By
Less than 30 mins

preparation time
30 mins to 1 hour

cooking time
Serves 4
Quick recipe finder
Type the ingredients you want to use, then click Go. For better results you can use quotation marks around phrases (e.g. "chicken breast"). Alternatively you can search by chef, programme, cuisine, diet, or dish (e.g. Lasagne).
Advanced search options
This recipe is from...
Recipes from this episode