Sweet and sour duck broth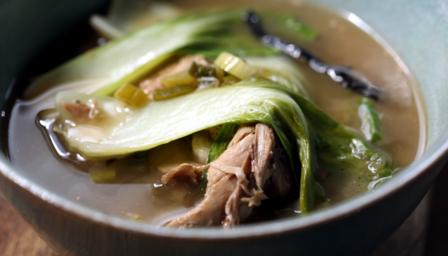 Leftover roast duck gives a deep flavour to this Chinese-inspired soothing soup with greens.
Preparation method
Place the duck carcass in a large pan and cover with water.

Add the dried mushrooms, chopped ginger, peppercorns and bay leaf. Bring just to the boil, then reduce the heat and simmer, uncovered, for an hour.

Heat a splash of oil in a separate pan and fry the garlic, spring onions until softened. Add any leftover duck meat to the pan and heat through.

Add the sugar and vinegar and cook for two minutes.

Strain the duck broth through a fine sieve into a clean pan. Add the pak choi and the duck mixture at the last minute so the pak choi is just wilted. Ladle into deep bowls.
By
Less than 30 mins

preparation time
30 mins to 1 hour

cooking time
Serves 2
Quick recipe finder
Type the ingredients you want to use, then click Go. For better results you can use quotation marks around phrases (e.g. "chicken breast"). Alternatively you can search by chef, programme, cuisine, diet, or dish (e.g. Lasagne).
Advanced search options
This recipe is from...
Recipes from this episode