Stuffed chicken breast wrapped in pancetta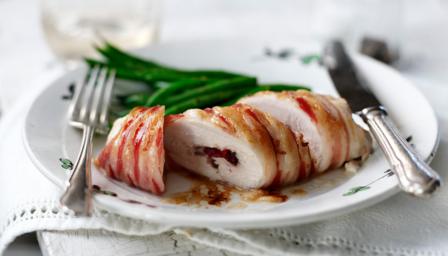 This chicken recipe is easy and impressive: it's perfect for a dinner party.
Ingredients
For the green bean salad
Preparation method
Preheat the oven to 200C/400F/Gas 6.

Place each chicken breast between two pieces of cling film and, using a meat mallet, bash out the pieces until about 0.5cm/0.25in thick. Remove the cling film.

Spread one tablespoon of cranberry sauce over each chicken breast. Place a piece of gorgonzola in the middle of each chicken breast, season and roll up the chicken to enclose the cheese.

Place six slices of pancetta, side by side, on a chopping board. Place one chicken breast on the pancetta slices and tightly wrap pancetta around the chicken. Repeat with the remaining chicken and pancetta slices.

Place the chicken breasts on a baking tray, drizzle with a little olive oil and cook in the oven for about 20-25 minutes until the cheese is melted.

Meanwhile, blanch the green beans for a few minutes in boiling water and then refresh in iced water.

Toss the beans with the lemon juice, olive oil, salt and freshly ground black pepper.

Divide the bean salad between four plates.

Top with the cooked chicken and serve at once.
By
Less than 30 mins

preparation time
10 to 30 mins

cooking time
Serves 4
Quick recipe finder
Type the ingredients you want to use, then click Go. For better results you can use quotation marks around phrases (e.g. "chicken breast"). Alternatively you can search by chef, programme, cuisine, diet, or dish (e.g. Lasagne).
Advanced search options
This recipe is from...
Next on
10:00am Saturday 25 May
James Martin is joined by top chef Tom Kitchin for the cooking show.