Stir fried chicken with black bean sauce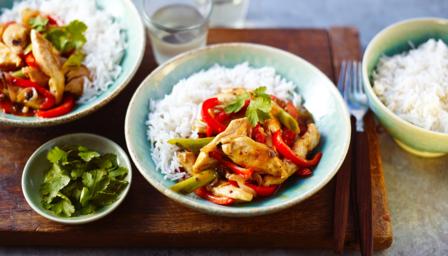 A popular and easy stir-fry, chicken and black bean sauce is a great midweek supper.
Preparation method
Heat the sunflower oil in a large wok or frying pan, add the red onion and pepper and stir fry for 1-2 minutes.

Add the garlic, chilli and chicken to the onion mixture and cook over a very high heat for about 4 - 6 minutes, or until chicken is sealed and tender.

Add the spring onions to the wok and cook for another minute. Place the cornflour in a small bowl and add the black bean sauce, sherry and water. Whisk until well combined. Add the sauce mixture to the wok and allow to thicken slightly.

Serve with boiled or steamed rice.
By
Less than 30 mins

preparation time
10 to 30 mins

cooking time
Serves 4
Quick recipe finder
Type the ingredients you want to use, then click Go. For better results you can use quotation marks around phrases (e.g. "chicken breast"). Alternatively you can search by chef, programme, cuisine, diet, or dish (e.g. Lasagne).
Advanced search options