Stir fried chicken and broccoli with noodles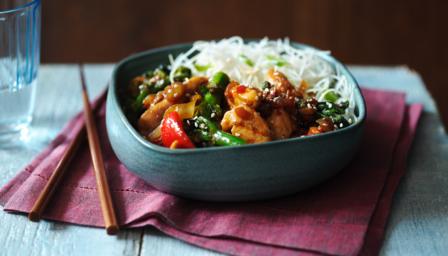 Stir-fries are very flexible - throw in whatever vegetables you like into this easy sweet and savoury chicken supper.
Ingredients
For the chicken:

For the noodles:
Preparation method
For the chicken, place the chicken into a bowl, add the light soy sauce and black pepper and toss well, then set aside.

Bring a pan of salted water to the boil, add the sprouting broccoli and cook for two minutes until just tender, then drain and set aside.

Heat a wok or large frying-pan over high heat until it is hot.

Add the oil, and when it is very hot and slightly smoking, add the chicken and stir-fry for 2-3 minutes or until golden-brown, and nearly cooked.

Remove the chicken from the wok and set aside.

Add the onion to the wok, along with the garlic, ginger and red pepper and stir-fry for three minutes.

Add the chicken and broccoli and toss through then add the sherry, sesame oil, soy sauce and chilli bean sauce and heat through, stirring to combine.

Mix the cornflour with one tablespoon of water, then stir into the sauce and heat until just thickened.

For the noodles, cook the noodles according to the pack instructions, then drain and toss with the sesame oil and spring onions.

To serve, pile the noodles onto the plate, then spoon the chicken over the top.

Garnish with the sesame seeds and serve at once.
By
Less than 30 mins

preparation time
10 to 30 mins

cooking time
Serves 4
Quick recipe finder
Type the ingredients you want to use, then click Go. For better results you can use quotation marks around phrases (e.g. "chicken breast"). Alternatively you can search by chef, programme, cuisine, diet, or dish (e.g. Lasagne).
Advanced search options
This recipe is from...
Recipes from this episode
Next on
10:00am Saturday 25 May
James Martin is joined by top chef Tom Kitchin for the cooking show.