Sticky chicken thighs with lemon and honey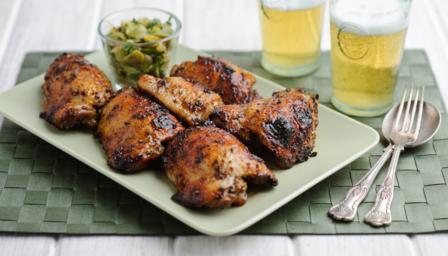 Preparation method
Preheat the oven at 200C/400F/Gas 6.

Place the peppercorns into a pestle and mortar and grind until roughly crushed. Add these to a large bowl together with the lemon juice, honey, mustard and garlic and mix well.

Place the chicken thighs into a large roasting tin and pour the lemon and honey mixture over the chicken, leaving it to marinate for as long as possible. Sprinkle with sea salt, to taste, then cook in the hot oven for 45 minutes, turning halfway through cooking so that the thighs become lovely and sticky.

Meanwhile, cut the preserved lemons open and remove the soft flesh to leave you with just the skin (discard the flesh). Cut the skin into strips and toss together with the olives and parsley. When the chicken is ready, serve sprinkled with the olive, parsley and preserved lemon mixture.
By
Less than 30 mins

preparation time
30 mins to 1 hour

cooking time
Serves 2-3
Quick recipe finder
Type the ingredients you want to use, then click Go. For better results you can use quotation marks around phrases (e.g. "chicken breast"). Alternatively you can search by chef, programme, cuisine, diet, or dish (e.g. Lasagne).
Advanced search options
This recipe is from...
Recipes from this episode
Next on
12:20pm Tomorrow
Food writer Nigel Slater creates simple yet delicious meals using everyday ingredients.