Sticky cranberry sausages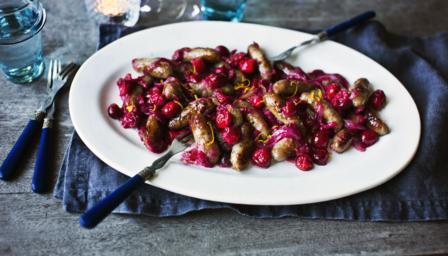 Make a trayful of sticky, sweet-tart sausages to pass around at a party or as an alternative to pigs in blankets.
Preparation method
Fry the sliced red onions in a pan with the oil for five minutes or so until softened. Add the sausages to the pan.

As the sausages start to brown, add the jelly and cranberries

Cook on a low heat for 20 minutes, stirring occasionally, until caramelised and sticky.

Grate over the clementine zest and serve.
Less than 30 mins

preparation time
10 to 30 mins

cooking time
Serves 10
Quick recipe finder
Type the ingredients you want to use, then click Go. For better results you can use quotation marks around phrases (e.g. "chicken breast"). Alternatively you can search by chef, programme, cuisine, diet, or dish (e.g. Lasagne).
Advanced search options