Spicy Middle Eastern kofte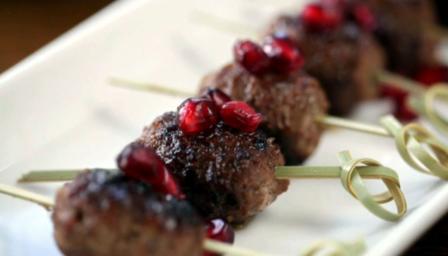 These Middle Eastern-style meatballs are a doddle to make and perfect for the barbecue. Serve in a pitta with tzatziki.
Ingredients
For the kofte

For the glaze
Preparation method
Preheat the oven to 180C/350F/Gas 4. Alternatively, light the barbecue.

For the kofte, mix together all of the kofte ingredients in a large mixing bowl until well combined, using your hands.

Divide the kofta mixture into 16 equal portions and roll each into a small sausage shape. Place the kofte onto a non-stick baking tray and cook for 10-12 minutes, or until completely cooked through.

Meanwhile, for the glaze, pour the honey and pomegranate molasses into a small pan and heat gently until warmed through. Keep warm.

Remove the kofte from the oven, spear each one straight through the middle with a cocktail stick and arrange on a serving platter. Lightly brush the kofte with the warm glaze and sprinkle over the pomegranate seeds. Serve immediately.
By
Less than 30 mins

preparation time
10 to 30 mins

cooking time
Makes 16
Quick recipe finder
Type the ingredients you want to use, then click Go. For better results you can use quotation marks around phrases (e.g. "chicken breast"). Alternatively you can search by chef, programme, cuisine, diet, or dish (e.g. Lasagne).
Advanced search options