Spicy chicken thighs with cucumber and cashew salad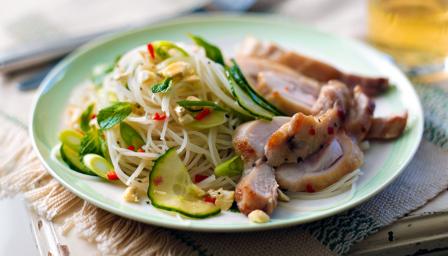 This hot chicken and cool noodle salad combines bright lime and chilli flavours to spice up a summer lunch.
Ingredients
For the spicy chicken thighs

For the cucumber and cashew salad
Preparation method
For the spicy chicken thighs, whisk the fish sauce, pepper, garlic, chillies and sugar together in a bowl.

In a separate bowl, pour half the marinade over the chicken thighs. Cover with cling film and refrigerate for 20 minutes. Reserve the rest of the marinade.

For cucumber and cashew salad, make a dressing by adding the lime juice and sugar to the reserved marinade, stirring until the sugar has dissolved.

In a heat-proof bowl, cover the vermicelli with boiling water and leave for a minute or so until the noodles have softened.

Drain and rinse the noodles under cold water. Mix the drained noodles in a large bowl with the cucumber, mint, spring onions, cashews and the dressing until well combined.

Remove the chicken thighs from the marinade, shaking off any excess. Fry the chicken thighs in the oil in a large frying pan over medium-high heat for 3-4 minutes on each side, or until cooked through. (You may have to do this in batches.)

To serve, divide the cucumber and cashew salad among four plates, slice the chicken and place alongside.
By
Less than 30 mins

preparation time
10 to 30 mins

cooking time
Serves 4
Quick recipe finder
Type the ingredients you want to use, then click Go. For better results you can use quotation marks around phrases (e.g. "chicken breast"). Alternatively you can search by chef, programme, cuisine, diet, or dish (e.g. Lasagne).
Advanced search options
This recipe is from...
Recipes from this episode
Next on
8:30am Sunday 26 May
James Martin takes a look back at some of his favourite recipes and best moments.