Southern-fried chicken and coleslaw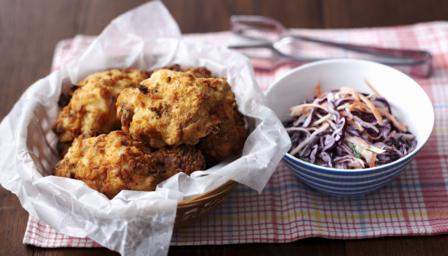 Ingredients
For the marinade

For the coating

To cook the chicken

For the coleslaw
Preparation method
For the marinade, combine all the ingredients for the marinade and coat the chicken in a shallow dish. Cover and leave to marinate overnight in the fridge.

Combine all the ingredients for the coating. Remove the chicken from the marinade and dip into the spiced flour. Coat thoroughly and return to the fridge for a further 45 minutes.

Preheat the oven to 200C/400F/Gas 6.

Heat the vegetable oil to in a deep heavy-bottomed saucepan, until a breadcrumb sizzles and browns when dropped in it. (CAUTION: hot oil can be dangerous - do not leave unattended!). Add the chicken and fry until golden all over. Remove and place on a baking sheet.

Transfer to the oven and cook for 15-20 minutes until cooked through.

For the coleslaw, mix all of the ingredients together and season to taste.
By
Overnight

preparation time
10 to 30 mins

cooking time
Serves 4
Quick recipe finder
Type the ingredients you want to use, then click Go. For better results you can use quotation marks around phrases (e.g. "chicken breast"). Alternatively you can search by chef, programme, cuisine, diet, or dish (e.g. Lasagne).
Advanced search options
This recipe is from...
Next on
10:00am Saturday 25 May
James Martin is joined by chefs Alyn Williams and Tom Kitchin, and actor Danny Mays.