South Indian chicken curry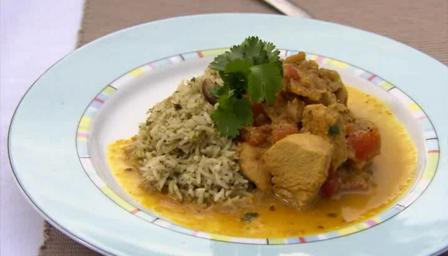 Good curry depends on a good curry paste. Making your own from scratch will bring out the full fragrance of the spices and make your curry sing.
Ingredients
For the masala paste

For the curry
Preparation method
First make the masala paste. Grind all the ingredients together in a pestle and mortar, or pulse in a small food processor, until you have a fine paste.

For the curry, make a paste by pounding the ginger and garlic cloves in a pestle and mortar or by blending them in a small food processor.

Heat the sunflower oil in a lidded pan and fry the onion and chilli until softened. Add the masala paste and the ginger and garlic paste and fry for 2–3 minutes.

Add the chicken pieces, chilli powder, turmeric and salt, cover the pan and cook for 5 minutes. Then add about 125ml/4fl oz of water and cook gently until the chicken is tender.

Garnish with coriander leaves and serve with rice.
Less than 30 mins

preparation time
30 mins to 1 hour

cooking time
Serves 4
Quick recipe finder
Type the ingredients you want to use, then click Go. For better results you can use quotation marks around phrases (e.g. "chicken breast"). Alternatively you can search by chef, programme, cuisine, diet, or dish (e.g. Lasagne).
Advanced search options