Smoked salmon and caviar finger sandwiches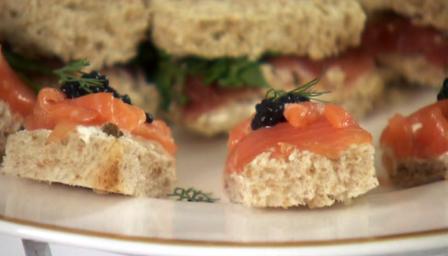 This is no ordinary smoked salmon sandwich – the little bursts of briney flavour from avruga caviar is a luxe touch.
Preparation method
Mix together the cream cheese and the capers and season with freshly ground black pepper.

Butter the bread, then spread the cream cheese mixture over two of the slices. Top with the smoked salmon, caviar, shallots and dill. Top with the remaining buttered bread.

To serve, slice off the crusts and cut the sandwiches into fingers.
Less than 30 mins

preparation time
No cooking required

cooking time
Serves 4-6
Quick recipe finder
Type the ingredients you want to use, then click Go. For better results you can use quotation marks around phrases (e.g. "chicken breast"). Alternatively you can search by chef, programme, cuisine, diet, or dish (e.g. Lasagne).
Advanced search options
This recipe is from...
Recipes from this episode