Smoked mackerel pate and cucumber sandwich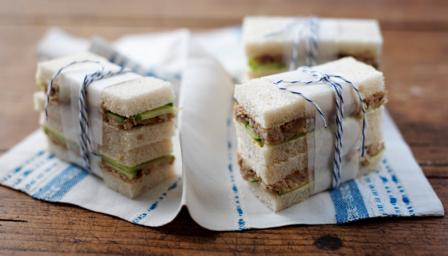 The refreshing crunch of cucumber and a dollop of cooling yoghurt are the ideal foils for the rich, smokey fish.
Preparation method
Flake the mackerel fillets into the bowl of a food processor. Add the yoghurt, horseradish and lemon juice and season with salt and freshly ground black pepper. Pulse gently to a rough paste.

Butter the bread, remove the crusts and cut into neat squares.

Arrange a single layer of sliced cucumber onto half of the buttered bread. Spread the mackerel pâté on top and sandwich with the remaining bread.

To serve, cut the sandwiches into triangles.
Less than 30 mins

preparation time
No cooking required

cooking time
Serves 4-6
Quick recipe finder
Type the ingredients you want to use, then click Go. For better results you can use quotation marks around phrases (e.g. "chicken breast"). Alternatively you can search by chef, programme, cuisine, diet, or dish (e.g. Lasagne).
Advanced search options
This recipe is from...
Recipes from this episode