Smoked chicken mulligatawny soup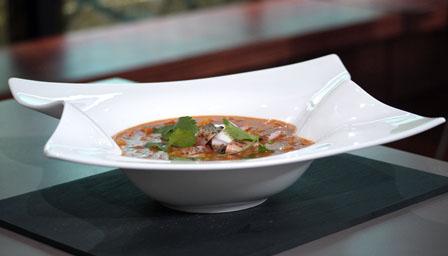 This delicious mulligatawny soup recipe is a meal in itself, perfectly balanced and fragrant.
Preparation method
Heat the vegetable oil in a heavy-based saucepan and gently fry the onion, carrot and parsnip on a low heat for five minutes, or until softened.

Add the garlic and curry paste and cook for a further 3-4 minutes.

Add the potato, rice and stock. Season with salt and freshly ground black pepper.

Bring to the boil, then reduce the heat and simmer for 25 minutes. Add the smoked chicken and peas and cook for a further five minutes.

Remove about a third of the soup from the pan, allow to cool slightly and blend in a food processor until smooth.

Add the blended soup back into the pan. Stir until well combined and heated through.

Ladle the soup into bowls and sprinkle the coriander on top. Serve with soured cream and warm naan bread.
By
Less than 30 mins

preparation time
10 to 30 mins

cooking time
Serves 6
Quick recipe finder
Type the ingredients you want to use, then click Go. For better results you can use quotation marks around phrases (e.g. "chicken breast"). Alternatively you can search by chef, programme, cuisine, diet, or dish (e.g. Lasagne).
Advanced search options
This recipe is from...
Recipes from this episode