Slow cooker braised lamb shanks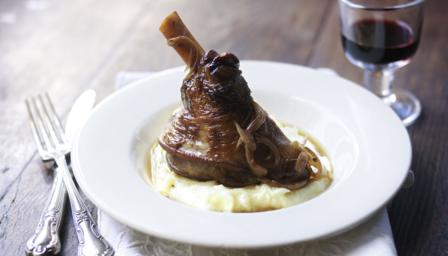 The meat on these lamb shanks is so tender that it falls off the bone. Serve with mounds of mash for the ultimate comfort food supper.
Preparation method
Heat the oil in a large frying pan.

Dredge the lamb shanks in the seasoned flour and fry in the frying pan for 4-5 minutes, turning regularly, or until browned all over. Place the lamb shanks in the slow cooker.

Deglaze the frying pan with the red wine and continue to cook for 2-3 minutes, or until the volume of the liquid has reduced by half. Pour the liquid into the slow cooker.

Add the onion, rosemary, bay leaves and stock to the slow cooker. The liquid should cover the meat - add more stock or boiling water if needed.

Cook on high for eight hours. Serve with mash.
Less than 30 mins

preparation time
Over 2 hours

cooking time
Serves 4
Quick recipe finder
Type the ingredients you want to use, then click Go. For better results you can use quotation marks around phrases (e.g. "chicken breast"). Alternatively you can search by chef, programme, cuisine, diet, or dish (e.g. Lasagne).
Advanced search options