Sichuan pepper beef stir-fry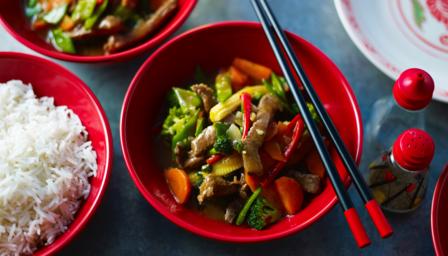 Fragrant spices, savoury soy and crunchy veg make this easy beef stir-fry recipe out of this world.
Ingredients
For the marinade

For the stir fry

To serve
Preparation method
Mix all the marinade ingredients, except the beef, in a bowl. Add the strips of beef, mix well and leave to marinate for as long as possible, ideally overnight.

For the stir fry, heat a wok over high heat and add the oil. Add the marinated beef and stir-fry for two minutes.

Add the red chilli and onion and stir-fry for less than a minute then add the rest of the vegetables and stir-fry for another minute.

Add the hot stock and stir well. Add the light soy sauce to season.

Bring to the boil, add the cornflour and water paste and stir to mix thoroughly.

Add the spring onion, season to taste with the salt and ground white pepper.

Serve with steamed jasmine rice.
By
Overnight

preparation time
Less than 10 mins

cooking time
Serves 2
Quick recipe finder
Type the ingredients you want to use, then click Go. For better results you can use quotation marks around phrases (e.g. "chicken breast"). Alternatively you can search by chef, programme, cuisine, diet, or dish (e.g. Lasagne).
Advanced search options
This recipe is from...
Next on
8:30am Sunday 26 May
James Martin takes a look back at some of his favourite recipes and best moments.